Columnists
Breakfast with Mother
May 15, 2017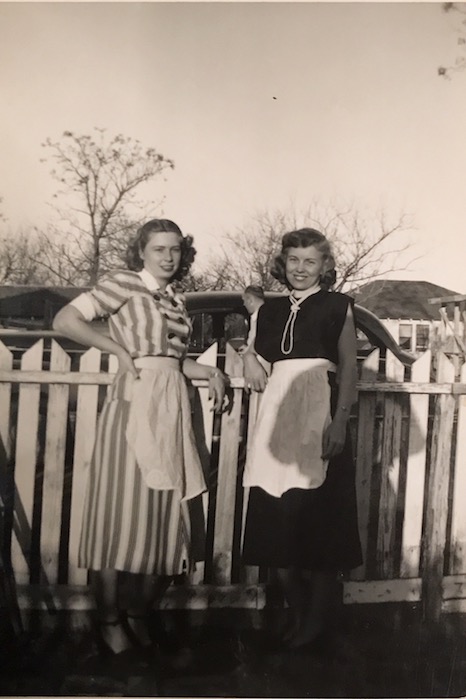 My mother on the right with her best friend Martha Jo, about 1948. Note the apron.


When it was time to move my twice-widowed father into assisted living, it was also time to close up his home. Closing a home with over fifty years of detritus is a chore and it was my chore. Before and after the inevitable estate sale, items drifted to my house and to my sister's. And it's one of those items I want to talk about today.

My mother was not a cook. She had a few things she made well—spaghetti and a dry roast (if you're into that)—but the rest of the time you were genuinely better off doing her favorite thing, dining out. But one meal she did love to cook and was very good at—but did not eat—was breakfast.

Mother could fry eggs. This involved lots of bacon and popping grease in the skillet. My husband loved it, but then he wasn't in for a lifetime of it either. She would even scramble eggs for our cocker spaniels when they visited their "grandmother." I'm not sure what the myriad cats were treated to. Undoubtedly, it was good because they all lived a long time.

Besides eggs, she could turn out passable pancakes and very good waffles, Aunt Jemima mixes to the rescue. And one of the items which made it from her kitchen to mine was a single waffle waffle iron.

What brought all this up? I made waffles, from scratch mind you, a few weeks ago and the conversation in my kitchen went something like this:

"Where'd you the waffle iron?"

"It was Mother's."

"It still works?"

"Or you wouldn't be having waffles."

"How old do you think it is?"

"From the fifties. I remember it as a child. And look at the cord. Not today's electric."

"What brand?"

"I'll look after we have breakfast and it cools off."

"Good waffles."

"I know."

It was a Signature, a Montgomery Wards house brand. "Monkey Wards," as it was known in our house, was as special as Sears to us. We'd pour over the thick catalogs as they would arrive in the mail. Sometimes we'd make it to a retail store, although that wasn't the intention of the brand's originator. He was all about making items found in urban areas also available to the rural via his catalog. Alas, the old line business didn't survive much past the Millennium, even though there is currently a catalog retailer bearing the name Wards.

I have other things from my parents' house, vases, photos, needlework I made for Mother, two heavy Diamond Craft aluminum casseroles that share one lid and which were used almost exclusively for baked beans, a recipe we still love. I'll never use them because, pretty as they are with their diamond shapes, anything I ever cook will stick, stick stick! The silver plate, the "good" dishes my grandfather bought Mother after WWII because they weren't available when she married in 1942, glass salad bowls she would have served from at church circle meetings at our house. Things I use, things I see, things I'll leave for my children to go, "What is this? Why is this?"
Mother will be gone 20 years this summer but somehow, in seemingly inconsequential ways, she's still here. Like a waffle on a Sunday morning.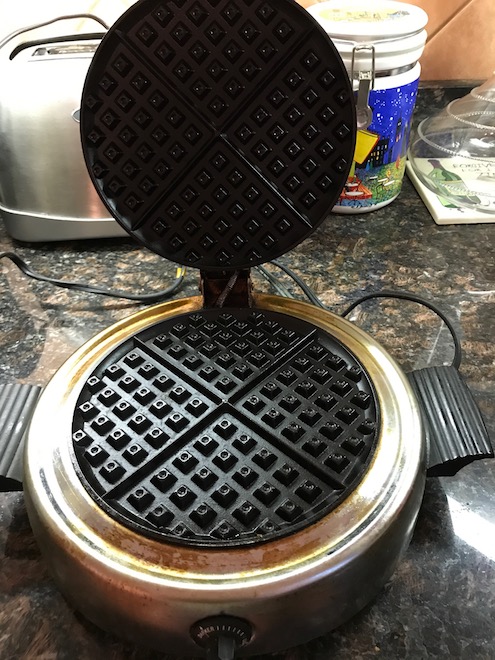 The Signature waffle iron ready for use.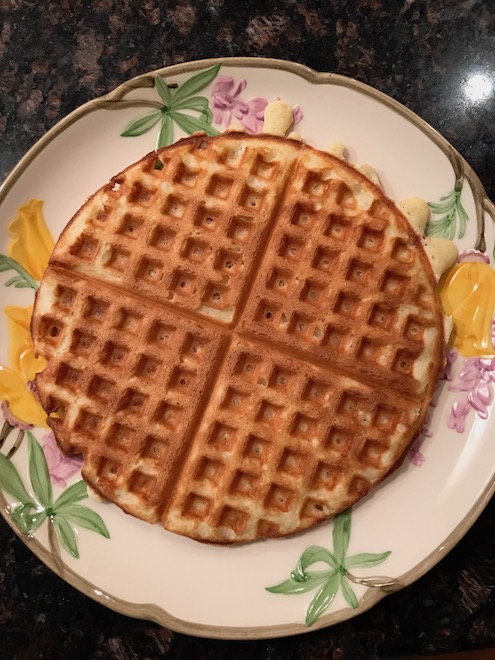 The finished product.