Entertainment
The courthouses of Fannin County
Sep 4, 2018
Bonham -- As Fannin County residents await restoration of the historic 1888 courthouse, a look back at the series of courthouses utilized by the county offers a glimpse into the fascinating history of a county that, according to Handbook of Texas, once encompassed 22 modern-day Texas counties.
Courthouse #1 - Jacob Black's log cabin
The first time commissioners court convened in what would soon become Fannin County was February 26, 1836 and the site was Jacob Black's log cabin on Red River. On December 14, 1837, the Texas Legislature approved the formation of Fannin County and designated Black's cabin as the state house until a more suitable building could be procured. It was here that the first county road was approved; it ran from Rocky Ford Crossing to Daniel Montague's plantation, bridging Bois d'Arc Creek and passing through Fort Warren, near present-day Ambrose Community.
It is difficult for modern-day North Texans to envision that, at that time in history, Fannin County encompassed Grayson, Collin, Cooke, Denton, Montague, Wise, Clay, Jack, Wichita, Archer, Young, Wilbarger, Baylor, Throckmorton, Hardeman, Foard, Knox, Haskell, Stonewall, King, Cottle, and Childress counties, as well as parts of Hunt and Collingsworth counties. The present-day county boundaries weren't established until 1846.
Courthouse #2 - Courthouse at Fort Warren
Founded in 1836 by Northborough, Massachusetts native Abel Warren who answered the call of this new frontier, Fort Warren was located one mile east of Choctaw Bayou on the south banks of Red River. Warren established a trading post before pushing further west in 1837, however, a small settlement began to take shape around the trading post. Fort Warren would be the site of the first school and post office in Fannin County and the seat of county government was transferred from Black's cabin to the community of Warren on January 8, 1840. According to the Handbook of Texas, the first district court for Fannin County was established at the same time and on April 27, 1840, Judge John M. Hansford opened the first session in the new courthouse, which was a two-story oak, bois d'arc and cedar structure.
Courthouse #3 - Log courthouse in Bois d'Arc village
Meanwhile, a village called Bois d'Arc, later to be named Bonham, was gaining commercial and political clout. On January 16, 1843, Bois d'Arc became the county seat. Judge John P. Simpson donated land where a double-room log courthouse was built, with one room for county and district clerks and the other room used as the courtroom. Jurors had the dubious pleasure of climbing an outside ladder to get to their perch above the courtroom.
Courthouse #4 - Stone and brick, downtown Bonham
In 1850, Fannin County bid adieu to its log cabin days and hired contractor William R. Baker to build a two-story stone and brick courthouse at a cost of $3,800.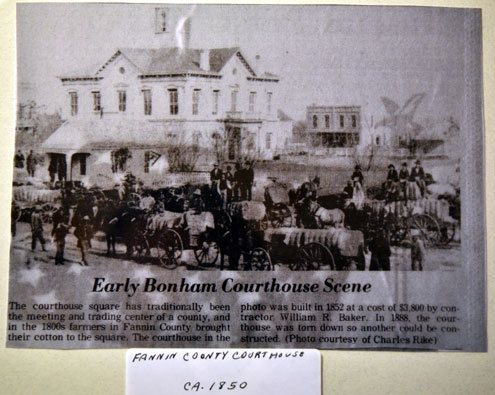 Research by the late Tom Scott indicated this courthouse was built in 1850 and torn down in 1859, although the cutline beneath the photo indicates otherwise.
Structural issues resulted in the courthouse being torn down in 1859.
Courthouse #5 - Stone structure, downtown Bonham
In 1860, a two-story stone structure surmounted by a cupola was constructed and it served the county's needs for slightly more than two decades.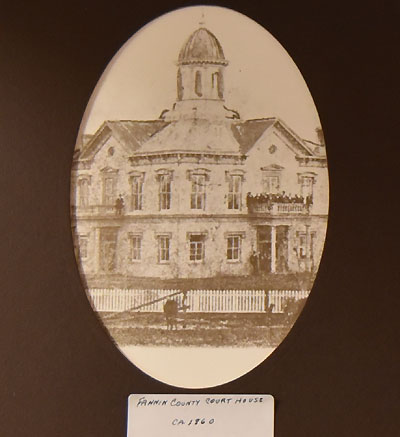 1860 Fannin County Courthouse
In 1881, a dire need for more workspace forced county officials to build a two-story brick and stone annex on the northeast corner of the courthouse square to house both clerks.
In 1887, the two-story courthouse and annex were both demolished to make room for a new stone three-story building with a cupola, town clock and bell.
Courthouse #6 -- 1888 Fannin County Courthouse
In 1888, Scottish-born stone masons Kane & Carmack were recruited to construct a three-story courthouse quarried from limestone in Gober, Texas and designed by the dean of historic Texas courthouse architects, Wesley Clark (W.C.) Dodson, at a cost of $77,000. Dodson designed at least six courthouses in Texas, including courthouses in Denton, Parker and Hill counties. The noted architect signed off on Fannin County Courthouse May 28, 1889.
For 41 years, this Second Empire-style structure was the pride of Fannin County and stood as a testament to the golden age of historic Texas courthouses.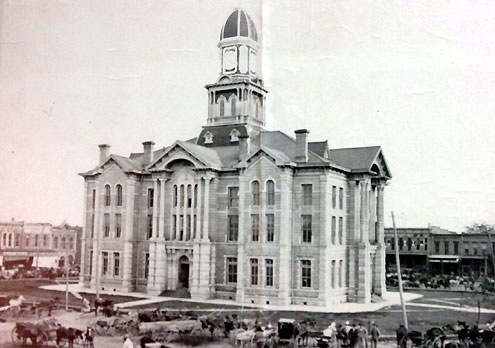 1888 Fannin County Courthouse
But at noon December 31, 1929, the towering courthouse clock would toll for the final time. A swirl of smoke was spotted near the cupola at high noon and in minutes black smoke was billowing from the tower. Bonham Fire Department raced to the scene and called for help from Sherman, Honey Grove and Paris. Ravenous flames, driven by a gusty south wind, soon consumed the center of the structure. In approximately two hours, the cupola and roof gave way, crashing down through the inferno. The courthouse clock's enormous cast bell would be found in the basement.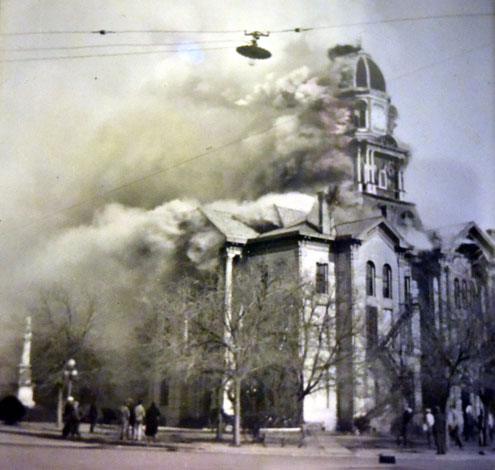 Commissioners immediately set out to restore the most important building in the county, but in 1929 the Great Depression was ravaging economies around the globe. Twice commissioners would try to pass a bond issue and restore the 1888 courthouse, and twice the citizens -- many struggling for bare necessities -- voted it down. As a last resort, insurance money was used to install a flat roof and paint the exterior stone white.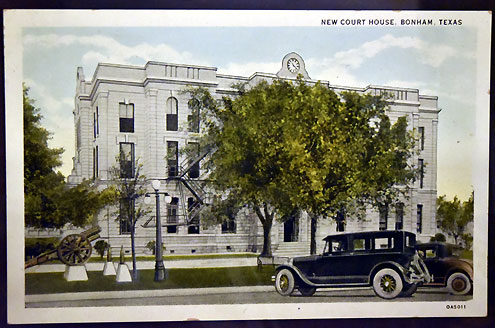 Fannin County Courthouse after the 1929 fire and subsequent repairs.
Even without the towering cupola, town clock and bell, the historic structure bore vestiges to the stunning structure designed by Dodson. But in the mid 1960s, a mood was afloat to modernize downtown. Local taxpayers ponied up $500,000 in 1965 to cover the historic limestone structure with man-made leuders stone.
Fannin County Courthouse after being remodeled in 1965.
An article in the May 16, 1965 Denison Herald managed to capture the moment in words.
For some, when workmen apply the coat of paint prior to putting on the new facing, it will be like a shroud to the historic old courthouse, but for all, it will be the passing of an era.
The question facing Fannin County residents now is, was that era gone forever or only forgotten for half a century?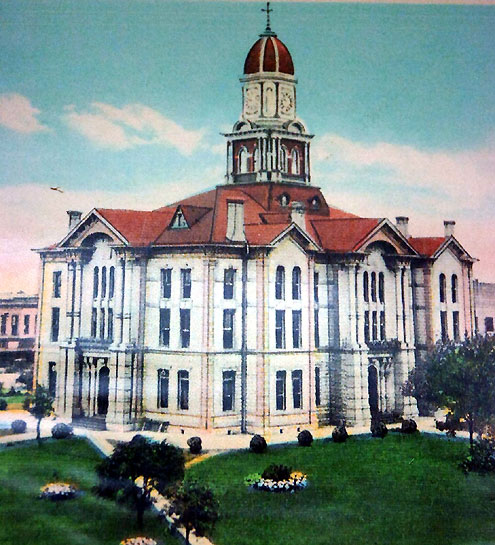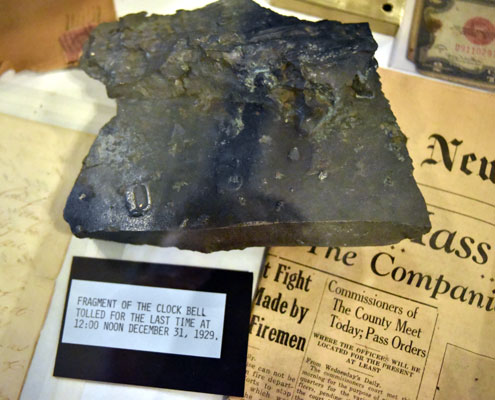 This exhibit at Fannin County Museum of History features a fragment of the clock bell.
Fannin County Courthouse exhibit at Fannin County Museum of History
all images courtesy of Fannin County Museum of History