School News
Dallas County Community College District students gear up for careers in automotive technology
Jan 4, 2017
Dallas – Summer Miller already knows a lot about cars.
As a service technician for a Ford dealership, Miller wants to master her knowledge about cars with an associate degree in automotive technology from Brookhaven College, where she is a second-year student. "I love cars. In class, we're going through transmissions and how they break down," she said.
Miller learned the basics of auto mechanics on her family's farm in Decatur. Whenever anything broke down, no one looked for a mechanic. "It was easier to fix things in a carport than to haul it to town. And it was cheaper too," said Miller, who is 21.
Her experience at Brookhaven is another level of training that's providing enhanced skills. "This is my third semester. I'm paying my own tuition and will come out fully certified in every aspect that Ford has training for," Miller said. "I've got seven certificates from Ford. I'm trying to shore up my credentials. Here, they help us apply what we've learned."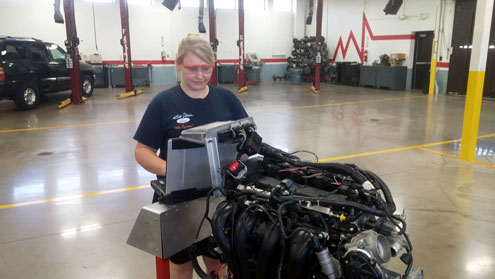 Summer Miller conducts a diagnostic test on a car engine.
Sometimes customers express surprise at her age and gender. But Miller quickly reassures them that she knows what she's doing.
"At first, they're shocked to see a girl. but then they're happy because they realize (automotive technology) is not just for guys. They ask me questions and I answer them. Then they ask what got me into this (field) and I tell them that I love working on cars. That seems to help," she explained.
A combination of the hands-on training at both Brookhaven and Ford puts her on the path to become a well-rounded technician who could one day manage a dealership, said Shane Baxter, one of Miller's instructors at Brookhaven.
A career with traction
Matthew Lane, a second-year student at Brookhaven, said cars were always a hobby for him. The laboratory and lectures at Brookhaven are an asset to his work at a Chevrolet dealership. "By the time I was a sophomore in high school, I thought I could turn this into a career, and it's been awesome ever since," said Lane, an entry-level worker.
Brookhaven, he said, gives him a leg up as he pursues his dream of becoming a full-time electrical technician. "This is a game changer with specialized classes for whatever you want to learn. It could be engines or transmissions or brakes," he added.
Brookhaven instructors stress the importance of learning to juggle multiple assignments.
"They learn how to inspect a car, change air filters and oil and fuel filters, but integrity is one of the most important things you can learn," Baxter said. "We're trying to produce an honest level of technicians because people do not trust mechanics. They don't want to spend the money, and Texas doesn't regulate technicians – so integrity and honesty become very important."
Baxter also is a graduate of Brookhaven's automotive program. Recently, he taught class with no air conditioning – a scenario that mimics what some mechanics deal with every day: intense September heat.
"Welcome to life," Baxter said. "To do this without air conditioning is what happens in a lot of shops. They work outdoors, so this is part of the training."
DCCCD students work on cars that have been donated to the schools.
Three DCCCD colleges offer auto tech programs, cultivate corporate partnerships
Preventative maintenance, diesel and heavy equipment are good career bets, and they are courses that typically broaden the knowledge of current technicians, although the auto tech program attracts students with various skills. Certificates are offered as part of factory-sponsored training from various car companies that have collaborated with DCCCD through Brookhaven, Eastfield and Cedar Valley colleges.
In addition to car repair, courses are offered in auto body technology for people who are interested in repairing, rebuilding and refinishing damaged vehicles.
The role of computers and advanced technology go a long way in servicing cars, said Don Jones, who directs Brookhaven's automotive technology program. Maintaining high performance cars goes far beyond doing an oil change or a tire rotation or diagnosing funny sounds under the hood. DCCCD students, Jones said, are on the cutting edge of new technology, including automotive safety such as backup cameras that are designed to prevent crashes or reduce the chance of accidents.
"I tell my students, no matter what a technician chooses to do, there's technology involved," said Jones. "There are tire pressure monitoring systems and back-up sensors, voice controls – all of the new gadgets that provide consumers with an enhanced sense of safety."
Skills taught to seasoned professionals and individuals who are new to automotive technology are based on accepted shop procedures that make students "workforce ready" and able to address the needs of an expanding auto industry.
"If this field is something you're willing to learn, there's a future for you," Jones said. "There are no unemployed good technicians. There's nobody out there who has these skills and who's looking for a job. We are constantly fielding calls from employers.
Automotive technology is complex. There are extensive electronic components, satellite guidance systems, multi-valve computer-controlled engines. And it takes a trained technician to keep everything in top shape," Jones said.
Students not only repair and adjust brakes; they also perform checks to make sure all hoses, spark plugs, brake and fuel systems, and other troublesome areas are performing as they should.
The automotive technology programs that DCCCD offers are very flexible, with both day and evening classes. "Students can work at their own pace. Sometimes a student will complete a certificate and come back for the degree," said Jones. His charge is to help students hone their skills and build the confidence to perhaps take over a company's car service center.
"Master mechanics are always in demand," added Jones, who has taught for 29 years at Brookhaven. "We get a number of students who are as green as they can be. But if they have the interest, come in, and they're excited and stay excited, they will do well. You have to have a passion."
According to labor officials, the job outlook for automotive technicians is good, with a projected growth of about 5 percent through 2024. The median annual wage for automotive service technicians and mechanics was $37,850 or $18.20 hourly in May 2015, according to the U.S. Department of Labor.
For additional information, contact: Susie Coffman, automotive student advisor at Brookhaven College, 972-860-4189; Ed Hester, co-coordinator of automotive technology at Cedar Valley at 972-860-8197; or Elias Alba, lead faculty member for automotive technology at Eastfield College, 972-860-7053.