Religion
Spirit of Giving Community Christmas Party Nov. 19 at First Presbyterian Church
Nov 19, 2016
Bonham -- Everyone is invited to attend the third annual Spirit of Giving Community Christmas Party on Saturday, November 19 from 11:00 a.m. – 2:00 p.m. The parking lot of First Presbyterian Church at the corner of 9th and Center streets in Bonham will be filled with new and gently used items. Everyone who attends, regardless of age, will receive four tickets to "purchase" anything they want for FREE. Items large and small have a "cost" of one ticket. There are no income limits imposed and no paperwork is required.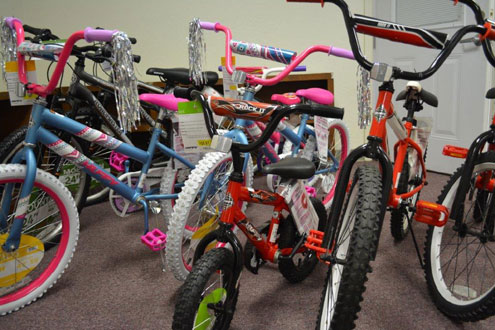 Bicycles will be given away in a free raffle.
Church and community members have been collecting items all year for this special event. Items available will include coats, sweaters, jewelry, household goods, new children's clothing, holiday decorations, furniture, movies, toys, games, and more! Chi Lambda will be giving away new bed pillows, and Bonham Psychiatry's station will offer towels, washcloths, and soap. Drawings will be held for several bicycles (both new and used) and some furniture items. There is also a large amount of used children's clothing to be given away with no ticket required.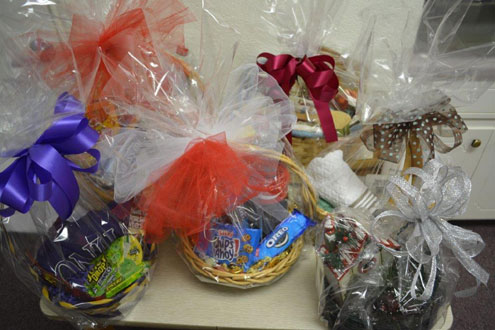 Beautiful gift baskets for one free ticket each.
Hot dogs and fixings will be provided by the K5 Fannin Radio Club. Cookies and hot chocolate will also be served in the Common Ground Prayer Garden by the Presbyterian Women.
All items, refreshments, and drawing entries are FREE!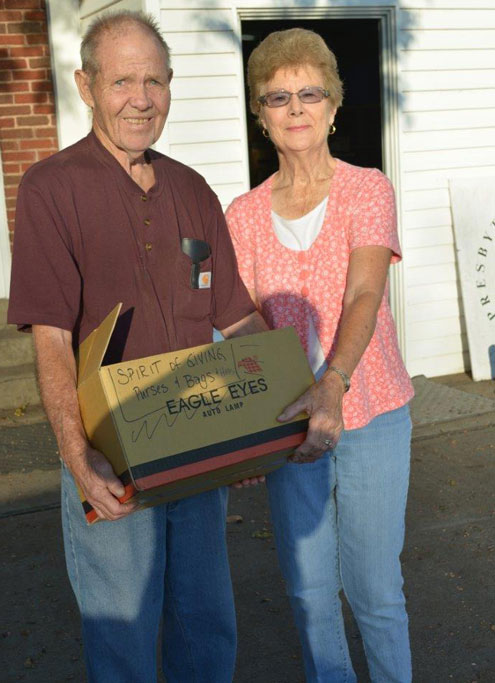 Larry and Barbara Wilson - among the many workers who have been sorting items for weeks to prepare for Saturday's event.
Guests should park at the First Baptist Church parking lot on Center Street. Tickets will be given out at the 9th Street entrance to the First Presbyterian parking lot. Please do not park at the apartment complex that adjoins the FPC parking lot.
The 2016 Spirit of Giving partners include First Presbyterian Church, First United Methodist Church, First Assembly of God, K5 Fannin Radio Club, Bonham Psychiatry, Chi Lambda, Comet Cleaners, and Massey's Music.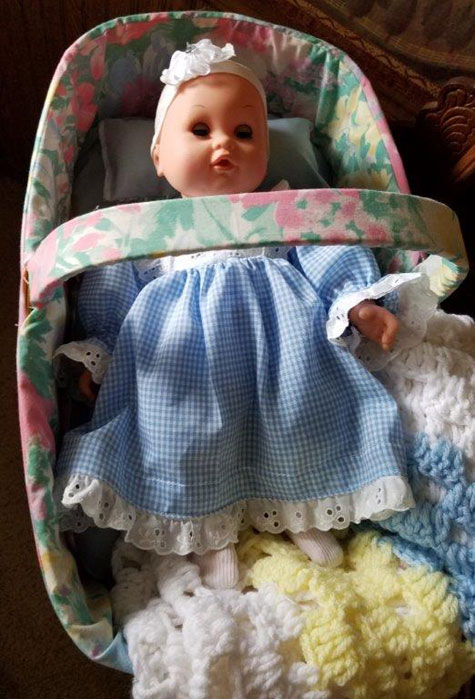 Doll with handmade dress, basket, and blanket just waiting for a new home.
For more information, call the church office at 903-583-2014 or email info@fpc-bonham.org.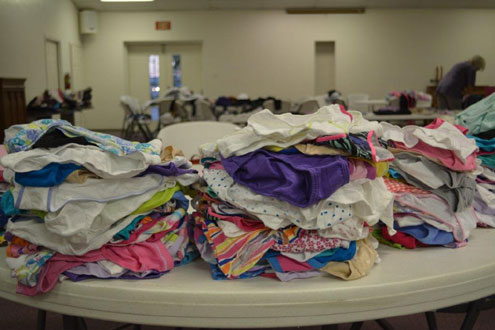 Approximately 3000 pair of new underwear have been sorted by size.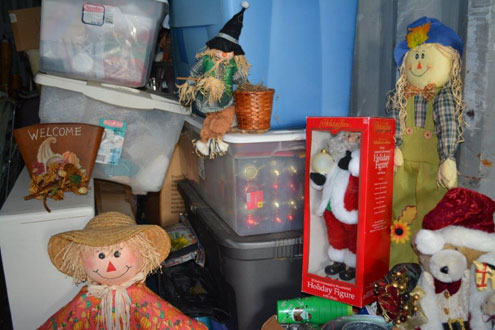 Holiday decorations galore!