School News
North Lake College, Nokia and Premcell team up on workforce challenges
Feb 12, 2017
Dallas – Changes in technology and the need to hire an educated workforce are driving the creation of a new eight-week technology training program which is the result of a new partnership that involves North Lake College, Nokia and Premcell. The training program will focus on helping individuals develop competence in basic technology related to cellular mobile networks.
The announcement was made recently during an event at North Lake College that was attended by Beth Van Duyne, mayor of the city of Irving; Dr. Joe May, chancellor of the Dallas County Community College District; Dr. Christa Slejko, president of North Lake College; Soman Kumar, CEO for Premcell Global; Claus Winberg, head of sales consultancy for Nokia; Joyabrata Mukherjee, senior director at Nokia; and Beth Bowman, president and CEO of the Greater Irving Las Colinas Chamber of Commerce and the Irving Economic Development Partnership.
Nokia is one of the world's largest companies specializing in telecommunications and information technology. Premcell is a world leader in wireless technology consulting, network roll-out, project support and technology training.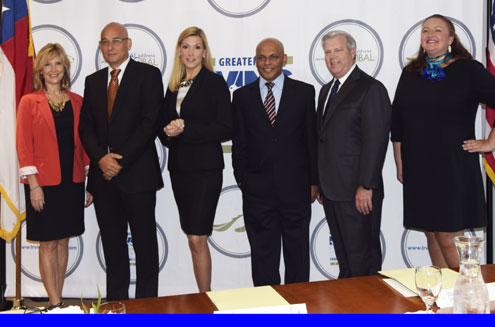 During the announcement of the North Lake College, Nokia and Premcell training partnership, representatives from all three organizations as well as the city of Irving and the Greater Irving Las Colinas Chamber of Commerce spoke: Dr. Christa Slejko, president, North Lake College; Claus Winberg, head of sales consultancy, Nokia; Beth Van Duyne, mayor, city of Irving; Soman Kumar, chief executive officer, Premcell; Dr. Joe May, chancellor, DCCCD; and Beth Bowman, president and chief executive officer, Greater Irving Las Colinas Chamber of Commerce.
Training is key
"The two telecommunications firms, who have offices and facilities in Irving, realized that there is an urgent need for qualified technicians," said Slejko. "North Lake College is excited to collaborate with both companies and create a training program which will provide them and other firms with the skilled workforce they need in the North Texas market."
"Our new partnership with Nokia and Premcell is an excellent example of how higher education benefits workforce and economic development," said May. "Through education and training, DCCCD – along with North Lake and our other six colleges – support student success, businesses and the communities we serve. Our students earn credentials which help them find good jobs, earn a living wage and support both their families and their communities."
Premcell Global has teamed with Nokia, Tier 1 universities and community colleges globally to provide wireless technology training that uses world-class instructors and consultants who have industry experience in research and development, network roll-out and systems engineering. All courses offer technology tools or test simulations, as well as question-and-answer sessions and 24/7 online support.
The first cohort of students – limited to 18 individuals – will start in January 2107; during the first year, the goal is to train a total of 60 students. They will attend classes eight hours each week for eight weeks, or a total of 64 hours of theory, plus a maximum of five days of practical test bed training both on- and off-site at Nokia. Successful students will receive a certificate of completion from Nokia and Premcell.
Students who successfully complete the training through North Lake College can seek employment as installation, commissioning and integration technicians with companies such as Nokia, Sprint, T-Mobile, Metro PCS, US Cellular, Frontier, Verizon and others.
Jobs with potential
According to Interlink 2016-2021, these jobs are considered "high skill/high demand occupations." The job outlook for 2014-2024 in these fields indicates a faster-than-average, 9 percent growth rate. For example: Computer network architects with two to four years of education can earn wages ranging from $35.15 to $59.88 per hour; computer network specialists who have two to four years of education can earn an hourly wage that ranges from $24.17 to $42.50.
The cost of the eight-week training program is $1,699 per student. Texas Private Education Grant funds (TPEG) may be available for some students; some incumbent workers may have funding through their employers.
Persons interested in applying for the training program should contact Sheral Phillips, coordinator of continuing education and workforce development at North Lake College, by phone at 972-273-3297 or by email at saphillips@dcccd.edu.