Local News
Texas Best Propane now delivering in Fannin County and surrounding counties
Jan 4, 2017
Fannin County, Texas -- Just in time to help customers prepare for the coldest artic blast in years, a new propane delivery company is already on the road.

Yes, it's a new company – lifelong friends Clint Hayes and John Darrell Beezley are proud to bring you Texas Best Propane – and the man behind the wheel of the brightly colored delivery truck is well-known local businessman, John Darrell.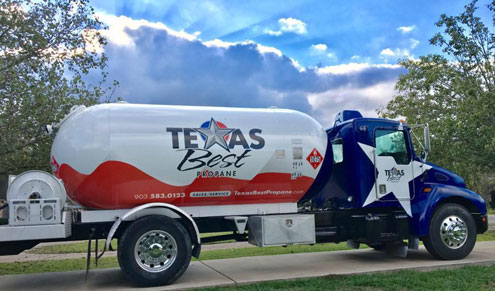 Mr. Beezley already has several years of experience in the propane business and understands the level of customer service required to be competitive.

"Here at Texas Best Propane, we are committed to providing the best possible service to our existing and new customers," states Beezley.

Texas Best Propane is located at 5468 South Hwy. 121, which is a convenient center of operations that allows the company to service customers throughout Fannin County and surrounding counties

Of course, your next delivery of propane is only a phone call away at 903-583-0123, 844-583-BEST.

They offer service and tanks are available for lease or purchase.

Texas Best Propane staff will provide friendly, reliable service at honest, competitive prices.

To learn more about Texas Best Propane, please visit www.TexasBestPropane.com or visit our Facebook page.