Local News
Fannin County Commissioners Court announces plans for new county building
Dec 26, 2016
Bonham -- It was standing-room-only for much of the final meeting of Fannin County Commissioners Court in the current county courtroom as an overflow crowd gathered to learn details of where county employees would be moved during restoration of the historic 1888 Fannin County Courthouse and to watch commissioners court approve a Proclamation honoring Rev. Bill Beasley.
The meeting opened with a member of C.O.R.E. (Citizens Organizing for Environment and Resources) reminding commissioners of an increased level of concern regarding sand and gravel mining in the northwest quadrant of Fannin County. During the upcoming session of the Texas legislature, C.O.R.E. hopes to enlist a sponsor to pursue legislation at the state level, primarily to ensure that mining operations must reclaim the mined land in a timely manner. Unlike Oklahoma, Texas has no laws on the books to protect natural resources from mining activities. The next meeting of C.O.R.E. will be 7:00 p.m. Thursday, January 5.
*****
Fannin County Sheriff Donnie Foster addressed commissioners court with an update as his office goes through the process of preparing to turn the reins over to the sheriff-elect.
"It has been my great pleasure to work with all of you and I want to wish all of you the very best in the future," Sheriff Foster remarked.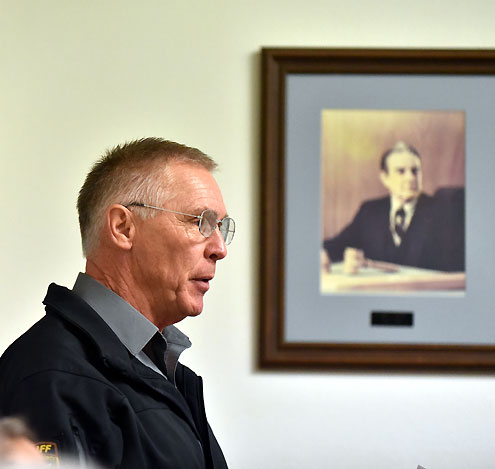 Fannin County Sheriff Donnie Foster
Foster added that the Fannin County Sheriff's Office is awaiting a large sum from forfeited seizures, which will leave the office in even stronger financial shape.
"I also want to wish the best to the incoming sheriff," Foster added.
*****
The recently appointed Veterans Service Officer for Fannin County, Paul Chandler, attended the regular meeting of Fannin County Commissioners Court and expressed his appreciation for being appointed.
"I'd like to thank the court for the opportunity to serve as Veterans Service Officer," Mr. Chandler stated.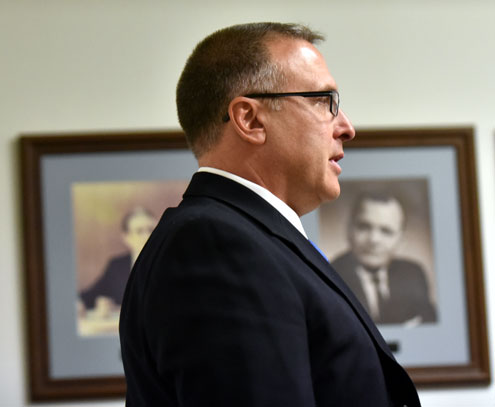 Paul Chandler, Veterans Service Officer
Commissioners court also took a moment to recognize a well-known resident, Reverend Bill Beasley, on the verge of his 94th birthday. Fannin County Judge Spanky Carter read a proclamation officially declaring December 28, 2016 to be Bill Beasley Day in Fannin County. Rev. Beasley will celebrate his 94th birthday December 28.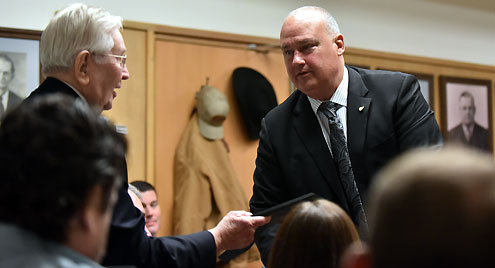 Rev. Bill Beasley (left) accepts a plaque from Fannin County Judge Spanky Carter.
The next order of business was for Judge Carter to issue the oath of office to Jason Walker, who was appointed December 6, 2016 to Fannin County Hospital Authority Board of Directors. Mr. Walker's term will expire October 2017.
*****
Fannin County County Commissioners Court unanimously approved Fannin County Pct. 4 Warehouse to be the county's designated site for Household Hazardous Waste Collection on April 22, 2017 from 9:00 a.m. to 1:00 p.m.
*****
Fannin County Commissioners Court went on to revisit the need for a standardized policy regarding salary reductions for county employees who are demoted when a newly elected official takes office. Commissioners court voted 4-1 to formulate a policy that demoted employees would be paid commensurate with his or her new duties beginning on the first payroll following the demotion. Commissioner Dean Lackey cast the opposing vote.
*****
With the expansion of State Highway 121 into a four-lane thoroughfare from the Fannin County/Collin County line to U.S. 75 at Melissa, TxDOT formally requested that Fannin County share in the project by contributing $52,000 to assist with right-of-way purchases and the relocation of utilities. Fannin County Commissioners Court unanimously approved the request.
*****
With no commissioners court scheduled December 27 and the next regular meeting of Fannin County Commissioners Court set for 9:00 a.m. Tuesday, January 3, 2017 in Bonham City Council chambers, Judge Carter announced details regarding the relocation of county employees during courthouse restoration.
Judge Carter, his administrative assistant Leah Gibby, probate clerk Diane Wilson and commissioners secretary Suzanne Stowe have been offered office space in Bonham City Hall.
336th District Judge Lauri Blake and staff will move to the south annex. District Clerk Nancy Young and staff will transfer to the current vehicle tag office
Fannin County Court At-Law Judge Charles Butler and staff will relocate to First United Methodist Church's Family Life Center. County employees April Gibbs and Kristy Ellison both work closely with Judge Butler's staff, so Gibbs and Ellison will also relocate to the Family Life Center. The county will pay the church $2,350 per month to utilize 4,875 square feet of the building and this was considered to be the best option available. Family Life Center will continue hosting weekly Rotary Club meetings and other gatherings.
The biggest announcement of the day was that Fannin County would build a new 8,400 square foot office building located on the northeast corner of Lipscomb Blvd. and East Sam Rayburn Drive. The structure will be south of TMC Bonham Hospital and west of the Juvenile Probation office. Most of the remaining county employees will work out of the new building. The Fannin County Tax Assessor/Collector will permanently operate from this building. In the near future, Fannin County will hire an election administrator and this person will also be located in this building. All early voting will be held at this location.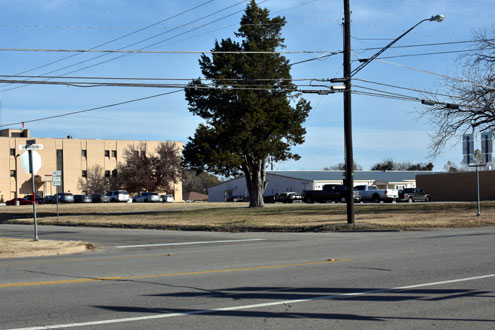 Judge Carter said the goal is for courthouse restoration to begin September 1, 2017 and for the restored courthouse to be functional by November 8, 2020.
"Great things are happening here in Fannin County," Carter remarked. "We are making progress and we will continue to make progress."
Carter challenged commissioners to be ready to voice New Year's resolutions and tell how Fannin County can be a better place when Fannin County Commissioners Court reconvenes January 3, 2017 at Bonham City Hall.