Local News
The Wonders of Wood Exhibit at Creative Arts Center
Jan 12, 2017
Bonham -- The Osage orange tree, otherwise known as the "bois d'arc," is a tree native to Central and East Texas. Its thorny branches and extremely hard wood is known to be durable and was commonly cut and used for fence posts. The name "bois d'arc" means "bow wood" and references the use by Native Americans for their bows and war clubs.
Though working with bois d'arc can be difficult because it is so strong and hard, wood artists and artisans seem to love the yellow iridescent sheen of the fresh wood - a sheen that darkens with time after exposure to the air. Since the wood is so durable, it works well for items such as canes and walking sticks.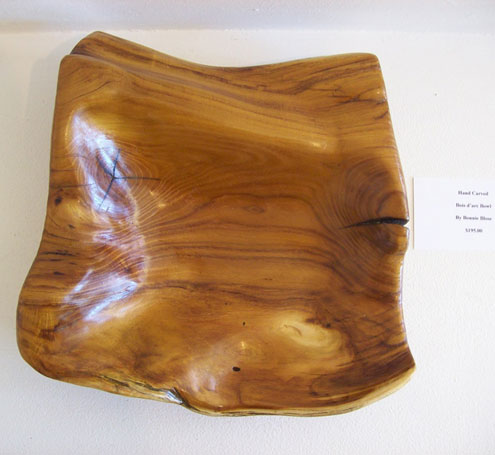 Hand-carved bowl fashioned from bois d'arc by Bonnie Blose
In January, an exhibit featuring the iconic tree of Texomaland will be on display at Creative Arts Center. The Wonders of Wood Exhibit will include a series of photographs of the bois d'arc and artisans working with the wood by Commerce photographer Laurie White King. King is a professional photographer and teaches Spanish and photography at Greenville ISD. She is a frequent contributor of sports features to the Greenville Herald Banner.
In addition to the photographs, artists and artisans who work with wood are invited to submit up to three pieces for the exhibit. This show is free to members of the Creative Arts Center but non-members may also submit handmade or handcarved items made of wood - any type of wood, but bois d'arc items are encouraged. Submission for non-members is $20 per person.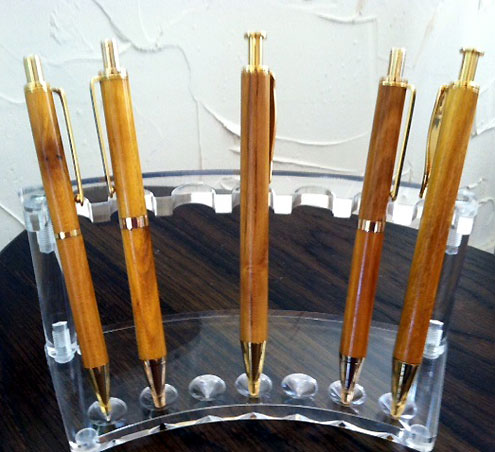 Bois d'arc pens created by David Keene
A reception is planned from 5:00-:7:00 p.m., Friday, January 13. This reception is open to all and there is no admission charge.
For more information, call the Creative Arts Center at 903-640-2196.