Local News
Tim Grimm & Family Band at Harmony House Jan. 15
Jan 15, 2017
Celebrate, celebrate, celebrate! On Sunday, January 15, 2017, Harmony House Concerts hosts Tim Grimm & Family Band, 4:00-6:00 p.m. What a joy to bring Tim back to our venue with his entire family accompanying him! That's something to celebrate along with a "mystery birthday!"
Make reservations now by calling 903/583-2661 and leaving your contact information and # of seats desired. Suggested donation is $15 per person. To prepay, make your check to Tim Grimm and mail to Faye Wedell, P.O. Box 812, Bonham, TX 75418. Our reclaimed vintage home is located on Wildscape Acres, 10 miles north of Bonham, TX and 65 miles NE of Dallas. You can request directions, if needed, when making reservations. Seating is limited to the first 50 reservations, but a waiting list will be kept.
For those of you who have heard Tim perform before, you can understand why a waiting list might be necessary. For those of you who haven't heard Tim's original Americana-Folk songs, be ready for quite a surprise. To learn more about Tim Grimm, visit his website, www.timgrimm.com. Be prepared to spend some treasured time wisely by listening to his lyrics and watching his Youtube videos. Woody's Landlord video is a must-see! Also, you can read more about this multi-talented artist in his bio below.
Guests are requested to bring finger foods for all to share. Tim & Family Band will play two 45-minute sets with a 30-minute intermission for mingling and grazing. Faye & Scott, the hosts will provide bottomless cups of coffee, tea, and punches throughout the performance and a yummy birthday cake to be served during the break. There will not be a potluck dinner, although Faye & Scott will be serving the performers Soup-er Sunday dinner after the show. Anyone interested in staying for a Song Circle is welcome to do so — bring your instruments, voices, or just listening ears!
Tim's bio:

Tim Grimm is a bit of a Renaissance man in the performing arts world. He has for the past 15 years, blended his love for songwriting, travel, and the storytelling of acting (theatre, film and television). His most recent recording, The Turning Point, produced the #1 song on Folk radio in 2014 — "King of the Folksingers." It was a particularly gratifying honor, given the song is a tribute to Tim's friend and musical icon Ramblin' Jack Elliott. Tim's history with Ramblin' Jack goes back 30 years — beginning with a bicycle ride that led to The Newport Folk Festival . . . Tim contributing liner notes to Jack's Grammy winning album, The South Coast (1995) . . . Jack's recording Buffalo Skinners with Tim on Tim's album Coyote's Dream (2003) . . . and now, most recently, "King of the Folksingers."
http://acousticmusicscene.com/2015/01/05/top-albums-songs-artists-of-2014-folkdj-l/
After college (Earlham), Grimm pursed an MFA in Theatre at The University of Michigan and from there worked in Regional Theatre, settling in Chicago. In Chicago, in addition to his theatre work, he studied briefly at the Old Town School of Folk Music and began writing songs and performing. He put together a band, Tim Grimm and The True Hearts and released 2 CDs — True Heart, Kind Mind and Broken Down Palace. At which point, 'Hollywood called', and Tim put down his guitar and pen, and didn't really pick them up for close to 10 years.
After several years (1990s) working in Los Angeles (where he co-starred for 2 seasons on the NBC drama Reasonable Doubts, worked on Clear and Present Danger with Harrison Ford, and appeared in several films and tv projects), Tim returned home to Indiana. He grew up in the woods and small town settings of southern Indiana, son of schoolteachers and grandson of farmers, and his return home was a conscious choice to live a life of significance rather than one of 'success'. He now lives with his wife on 80 acres close to where he grew up. Tim's songs are full of the rural rumblings that have shaped his life—rich with descriptive details, and sung with warmth and intimacy—recognizing the inextinguishable national romance with the idea of the family farm and the vanishing landscape of rural America. He released the album, Heart Land in 2000, and on the strength of that recording, was named 2000's "Best Discovery in Roots/Americana Music" by The Chicago Sun-Times. His albums Coyote's Dream and Names, led to his being named "2004 Male Artist of The Year" by the Freeform American Roots DJs. He has released 9 solo albums since 2000 (including the newest — The Turning Point), and 2 collaborations — Amber Waves (with Jason Wilber) and Wilderness Plots.
In 2005, Grimm was asked to compose music and act in a production of The Grapes of Wrath at Indiana Repertory Theatre and Syracuse Stage in New York. His song from the play — The Peoples Highway, made it onto his next album, The Back Fields, which was subsequently named "Americana Album of the Year" by the Just Plain Folks Music Awards — the world's largest independent music awards.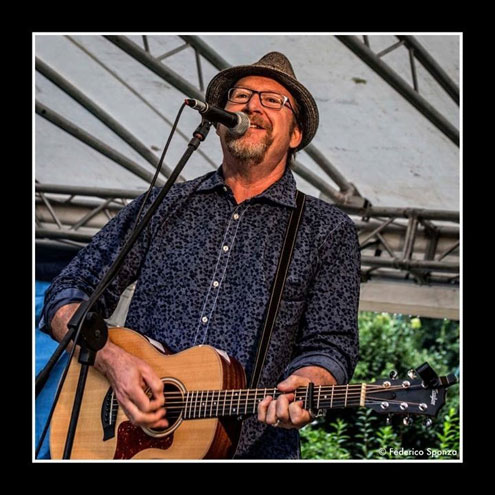 In 2007, Grimm put together a concept CD with several of the Midwest's finest songwriter's— Krista Detor, Carrie Newcomer, Tom Roznowski, and Michael White. The recording, Wilderness Plots, was drawn from the short stories of noted author, Scott Russell Sanders, and explored the settling of the American Wilderness in the Ohio River Valley Region between The Revolutionary War and The Civil War. Two PBS programs have explored Wilderness Plots — the first, a documentary on the story and song, and the second a full Wilderness Plots - In Concert (2012). Produced by WTIU in Bloomington, IN; both productions were nominated for Emmy Awards. Tim continued to write songs based on Sander's writings and released the album, Wilderness Songs and Bad Man Ballads in 2011. At about this same time, Grimm also released a tribute album with songs of Tom Paxton, entitled, Thank You, Tom Paxton.
For a list of all available albums (at this time) please visit: http://www.cdbaby.com/Artist/TimGrimm.
What others have to say about Tim's songwriting:
"The Back Fields is absolutely my favorite new release that I've heard since I can remember. Obviously, the songs are just wonderful as are the harmonies, but there's something more to it, the music just really tells such great stories, conveys such deep emotion, I don't know, it just really touched me like nothing has in a long time." ~ Mark Michaelis- WGDR, Plainfield, VT
"Tim's songwriting reminds me of Guy Clark. The songwriting is simple, straightforward yet full of poetry. It closely observes everyday life and distills the small moments of joy and pleasure. Grimm's vocal style also reminds me of Guy Clark's unassuming way of putting across a song. It's a voice in service to the lyric…..Tim Grimm reminds us of the authenticity of rural life and it's heartfelt emotions, a life lived close to nature, in consonance with the cycle of the seasons. In this time we live in, when all seems inauthentic, when our politics are debased by rulers gone mad with power, Tim's music helps reaffirm our faith in what this nation has been for more than two centuries and something to which we might someday return." ~ Richard Silverstein- Seattle
"Coyote's Dream" cement(s) his growing reputation as a fine songwriter rooted in the Woody Guthrie tradition…. As a songwriter and performer, Grimm has learned his Guthrie lessons well. His songs are uniquely his own, yet they seem instantly familiar." ~ Mike Regenstreif, SING OUT !
"Grimm is another link in the chain of literate singer songwriters that sees a side to the story that we always miss. The songs are little novels that unfold slowly and then knock you off your feet when you're not looking… A real find." ~ Village Records
" an artist that walks the world with a keen eye for detail and the ability to capture the human moment with candor and beauty…continuing the tradition of the mighty fine story told from mouth to mouth, ear to ear, heart to heart." ~ Carrie Newcomer