Local News
The Sherman Museum closed for restoration
Dec 28, 2016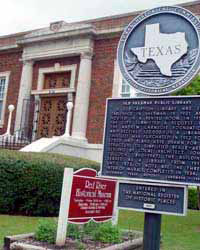 SHERMAN, Texas — Throughout the month of December The Sherman Museum has been working on restoring the historic Carnegie Library building that houses the museum. As progress moves to the main floor, the museum will be closed until sometime in January of 2017.

As one of thirteen Carnegie Libraries left in the state of Texas, it is a unique historical building for the city of Sherman. "We are proud to be in this building. It has great historical significance and we are excited to return it to its original state," Director Dan Steelman stated.

Restoration efforts include repairing broken walls, filling cracks, and repainting the walls and ceilings. As work continues into next year, the museum asks patrons to call the museum before visiting to make sure the museum is open until an official statement is put out.

About The Sherman Museum

The Sherman Museum is a non-profit 501(c) (3) educational organization devoted to collecting, preserving and interpreting objects of historical significance for visitors and residents of Grayson County and the Greater North Texas Region. The museum was previously known as The Red River Historical Museum prior to a name change in March 2011.

For more information about The Sherman Museum contact us at www.theshermanmuseum.org.