Columnists
Let's Reminisce: Santa Claus follies
Dec 27, 2016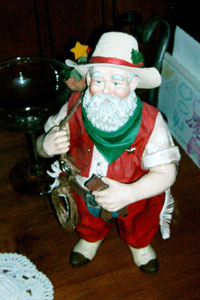 Having grown up in the country, I don't recall ever coming face to face with Santa Claus during my childhood. My wife and her little brother had that experience one Christmas Eve in the mid-50s, when she was about seven and he was four. She was quite impressed with Santa, but her brother exclaimed almost immediately, "You're not Santa Claus; you are Bob the mailman!" He was right.

In May of 2013, as Dr. Redshaw and I conducted a reminiscence session with the Austin College graduating class of 1963, the subject of memorable campus pranks and hijinks came up. The one that proved to be not only well remembered but also the most fun to recount was the Santa Claus caper.

One of the fraternities had two of its freshmen pledges in Santa suits show up inside a women's dorm one evening shortly before Christmas break. They ran up and down the halls throwing candy (and observing scantily clad coeds), with the Dorm Mother in hot pursuit. Since she took the elevator, they evaded capture by using the stairs. Their subsequent interview with the dean of students was less intense than the inquisition by frat brothers wanting detailed reports on what they had seen.

For a real comedy of errors (that turned tragic), consider the infamous Santa Claus Bank Robbery, which occurred on December 23, 1927, in Cisco, Texas. One of our state's best storytellers, A. C. Greene, even wrote a book about it. The leader of this gang of four wore a Santa Claus suit as a disguise, since he was well known in Cisco. What he didn't anticipate was that as they approached the First National Bank, he would be approached by children, some of whom would follow him into the bank. One child in particular had been promised by her mother that the next time they saw Santa, she would be allowed to talk to him about one more special gift she wanted.

With an armed mob in hot pursuit of the thieves, their getaway car ran out of gas, and they had to hijack another car. In the confusion they left their loot behind. When all was said and done, several people had been killed, including one of the robbers. Another died in the electric chair, a third went to prison with a life sentence, and the one who dressed as Santa Claus was later lynched by a mob.

In an "Afterword" to his book about the Cisco bank robbery, A. C. Greene mentions two Sherman connections with the story. The cashier of the bank was Alex Spears, and his son Charles, who became a Sherman banker, was one of the key sources that Greene interviewed when researching the story. According to Greene, Charles Spears said that he had lived with the Santa Claus robbery too long, and he was pleased that Greene's book relieved him of having to retell the story.

The second Sherman connection was Dan Witt, a neighbor of Charles Spears who had "grown up on the story." He was convinced that it would make a great movie, and after discussing it extensively with Greene after the book came out, he moved to California and became a successful movie producer. But he never made that movie.

Jerry Lincecum is a retired Austin College professor who now teaches older adults to write their autobiographies and family histories. Email him at jlincecum@me.com.