Lifestyles
2nd Annual Red River Skijoring Races Jan. 14-15
Jan 14, 2017
"Red River Skijoring"
Red River, New Mexico – The 2nd Annual Red River Skijoring races in Red River, New Mexico will be held on Saturday, January 14 and Sunday, January 15, 2017. This year we will have an Exhibition Division; kids and adults can participate.
The races start each day at High Noon on River Street in Red River, New Mexico.
In skijoring, a skier hangs on to a rope attached to a horse and glides across the snow. It is like horse-drawn waterskiing on snow. Best of all Skijoring is a thrilling spectator sport. With speeds of up to 37 mph, the action is fast-paced and exciting. You see the skiers being towed by a horse at a full gallop.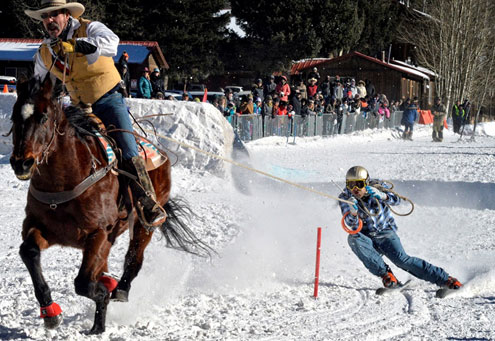 Horse. Cowboy. Skier. Rope. This high-adrenaline, sport combines all four. Teams race through a time-trial course with skiers navigating gates, jumps, and at times even spearing rings. Authentic horsepower and big spills make this truly one-of-a-kind winter western event a must see for the whole family!
The event is free for spectators.
Competitors can find registration information and rules on the event website: www.RedRiverSkijoring.com. There is day money cash prizes and prizes for overall winners of both days of competition in all divisions Novice, Sport & Open. And this year there is the Exhibition Division ; kids or adults, everyone is welcome to try it out!
For the safety of the horses, riders and skier's this is strictly a NO DOGS ALLOWED EVENT, except for a service dog by a person with disability.
Shops, restaurants, lodges and the ski area are open all weekend with additional activities.
Après Skijoring will include live music on Friday and Saturday at the Bull O' The Woods Saloon, and the Motherlode Saloon. You will be able to dance the night away with William Clark Green, Sam Riggs, Shane Smith, The Saints and Cooder Graw, Dix Hat Band and Saints Analogue.
An awards party for skijoring (public welcome) is scheduled for Sunday night along with a New Mexico Rodeo Queen's "Meet n' Greet at the Motherlode Saloon. For additional information on the event, please visit www.RedRiverSkijoring.com. For lodging and visitor information call 1-877-754-1708 or log on to www.RedRiver.org.
Great FREE Spectator Event!
2017 SCHEDULE
FRIDAY, JANUARY 13, 2017
2:00pm-ish Course Open for Limited Practice Runs
6pm-9pm Skijor Team Matching & Registration at
The Grill at the Lift House
8:30pm Live Music with William Clark Green at Motherlode Saloon
8:30pm Live Music with Sam Riggs at Bull O' The Woods Saloon
SATURDAY, JANUARY 14, 2017
10:00am—11:00am Course Inspection for Competitors
12:00pm Skijor Races!
Novice Division
Sport Division
Open Division
3:30pm "Race the Face" Snowmobile Hill Climb at the Red River Ski & Summer Area
7:00pm Torchlight Parade & Fireworks and Rail Jam at the Red River Ski & Summer Area
8:00pm Skijor Party at the Bull O' The Woods Saloon
Saturday Competition Payouts
Live Music by Shane Smith & the Saints
9:00pm Live Music by Cooder Graw at the Motherlode Saloon
SUNDAY, JANUARY 15, 2017
9:00am—10:00am Course Inspection for Competitors
10:00am—11:00am Fundraiser Event at Brandenburg Park Pavilion -- "Buy" Teams for Sunday Competition
(Proceeds benefit Wheeler Peak Fire District)
12:00pm Skijor Races!
Novice Division
Sport Division
Open Division
Exhibition Division (kids & adults—everyone welcome to try it out!)
5:00pm—9:00pm Skijor Party at the Motherlode Saloon
New Mexico Rodeo Queens Meet n' Greet
Sunday Competition Payouts
Fund Raiser Payouts
Overall Awards
Live Music by Dix Hat Band and Saints Analogue