Lifestyles
January 2017 at Creative Arts Center
Jan 7, 2017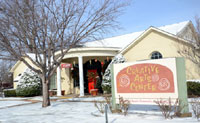 Bonham -- The Creative Arts Center will reopen after the holiday season on Tuesday, January 3 and launch a month of many activities. Friday, January 6 will be the first day of the Wonders of Wood Exhibit that will run through Saturday, January 28. An opening reception for the exhibit is scheduled for 5:00 p.m. to 7:00 p.m. on Friday January 13.

Yoga classes begin on Tuesday, January 3. Yoga is an excellent way to stay limber and develop core strength. You must sign up in advance as there are minimums for each class. Tuesday and Thursday classes are from 5:30 - 7:00 p.m. and the Wednesday morning class is from 8:30 a.m. to 10:00 a.m.

On Monday, January 9 another Glass Class by JL Glass Designs will start off CAC's Art on the Town schedule. These adult art parties are all about learning a skill, taking home something you made yourself and having a good time with friends. Participants are encouraged to bring drinks and snacks. Reservations are required for the class. Please sign up by Saturday, January 7. Cost is between $40-$50.

On Saturday, January 14 and for the following two Saturdays, there will be a photography class taught by Jana Rash, who taught a class this past fall. The cost of the 3-session class is $75 and a DSLR camera is required for the class.

Thursday, January 19, Leo Ransom, former president of the Sherman Quiltmakers Guild will give a lecture and demonstration on quilting a portrait. Leo's unique method produces beautiful quilts - both large and small. There is no cost to attend the lecture, but donations are appreciated.

Another Art on the Town experience will be a painting class later in January. Details to be announced. For information on all these activities, call the Creative Arts Center at 90-640-2196.