Local News
Noon Book Review at Bonham Public Library Friday, December 30
Dec 29, 2016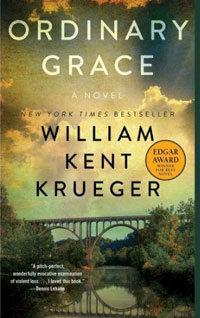 Bonham -- The book for review at the Bonham Public Library on Friday is Ordinary Grace by William Kent Krueger. Ordinary Grace was the 2014 Edgar Award winner for novels. William Kent Krueger is the author of a dozen Cork O'Connor novels, including Northwest Angle and Trickster's Point, as well as Ordinary Grace. He lives in the Twin Cities with his family.

In 1961, New Bremen, Minnesota, all is quiet and serene. The Minnesota River flows through the countryside, the town barber knows everyone's name, and folks dutifully attend church every Sunday. But that serenity is thrown into turmoil as a series of tragic deaths lead thirteen-year-old Frank Drum and his family on a hunt for terrible truths. But at what cost comes wisdom?

In this powerful novel from the author of the Cork O'Connor mysteries, a boy must leave his childhood behind and confront the dark nature of the adult world and its myriad moral questions: What secrets will destroy us? How do we deal with grief? And what solace is there in the ordinary grace of the world?

Told from Frank's perspective forty years after that fateful summer, Ordinary Grace is a brilliantly moving account of a boy standing at the door of his young manhood, trying to understand a world that seems to be falling apart around him.

The Noon Book Review meets in the conference room at the Bonham Public Library the last Friday of each month. Guests are welcome to bring a lunch. Dessert and coffee is served. Reading the book is not a requirement to attend the book review. Jane Gehalo, Library Board member will lead the discussion. For information regarding the Noon Book Review, contact the library. There is a list of upcoming books for discussion posted at the library. All of the books are available for checkout at the library or by download on Overdrive.