Farm and Ranch
Lamar and Fannin counties Master Gardener training classes scheduled for February 2017
Jan 17, 2017
The Extension offices in Lamar and Fannin counties will be conducted a Master Gardeners training class that will begin on Tuesday, February 7 and continue every Tuesday for 10 weeks
The training will be for interested volunteers in Lamar and Fannin counties. The classes will be held at the Honey Grove Church of Christ Fellowship building in Honey Grove, Texas.
The registration fee is $125 per person and will include the Texas Master Gardener Handbook, a name badge and other program expenses.
The training will cover cultural practices and environmental considerations in the cultivation and management of ornamental and flowering plants, vegetable gardens, fruits and nuts, turf and landscape plants. Classes will be taught by Extension Specialists, Certified Master Gardeners, and other experts. Some 50 hours of training will be provided.
Due to classroom size and other considerations, it may be necessary to limit the number of participants. If you are not selected this year, there may be an opportunity for you to train the next time the classes are offered.
The purpose of the Master Gardener Program is to support and assist the Extension office in providing information on proper gardening practices to the community. While Master Gardeners benefit personally from participation, it should be understood, the principal criterion for acceptance into the program is the availability and willingness of the individual to volunteer to help county residents.
Upon completion of the training, you will be asked to contribute a minimum of 50 hours of work through the county Extension office during the 12 months following the instructional period. After completing 50 volunteer hours of volunteer service, you will be a "Certified Master Gardener". It should also be understood that you are not limited to 50 hours of volunteer time. Our interest in selecting individuals for this program goes far beyond the first year of training. We need people who are willing to commit to continued participation as experienced Master Gardeners.
There are many ways to fulfill the 50 hour requirement. Examples include answering questions from office visitors, answering telephone inquiries, making presentations to garden clubs and civic groups, conducting garden or plant trials, or assisting with horticulture related education at schools. These are just a few, there are many other ways. We can work together to determine how you can contribute, but you are encouraged to be innovative in determining how you use your time.
Now, as you can see, this is a tremendous commitment; however, many Master Gardeners have found the training to be a great experience. There are few groups, if any, that are more enthusiastic about a subject than a group of gardeners. In addition, many Certified Master Gardeners have found their volunteer time helping others to be very rewarding.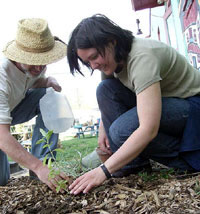 If you are interested in participating, please call (903-583-7453) or come by the Fannin County Extension Office (2505 N. Center St., Bonham, TX 75418) to pick up an application for the training. Completed applications must be returned to the Extension office on or before Thursday, January 12. Those selected for the program will be notified by Thursday, January 19.