Obituaries
Kenneth Earl 'Ken' Biggs
Jan 2, 2017
Allen, Texas -- Kenneth Earl "Ken" Biggs, 85, of Allen, Texas went to be with his lord and Savior on December 27, 2016. He was born on October 9, 1931 in McKinney, Texas to Fred A. Biggs and Elner (Calton) Biggs. Kenneth, loved coaching his kids in softball and baseball, camping, dancing, playing 42 and dominoes. One of his favorite pastimes that he enjoyed was going to Choctaw.
Kenneth is survived by his daughters; Charlotte Baxter and husband Jim, of Farmersville, TX; Pam Sarty and husband Homer, of Anna, TX, Connie Montgomery and husband Larry, of Anna, TX; Linda Sue Biggs, of Princeton, TX. Son; Kenney Biggs and wife Wendy, of Allen, TX, numerous grandkids, great-grandkids and great-great-grandkids, brothers, Calton Biggs and wife Maggie of Mound, TX; Tommy Biggs and wife Marianne of Dahlonega, GA, Gerald Biggs (Bud) of Lubbock, TX, G.C. Biggs and wife Juanita of Chatsworth, GA, sisters, Bea Roller and husband John of Celina, TX, Shirley Parker of Anna, TX, and Elenor "Pinkie" Benton and husband Ed Wenger of Holly Lake Ranch, TX, numerous nieces, nephews, cousins, friends and his dearest friend, Al Bryan of Allen, TX.
Kenneth was preceded in death by his parents, Fred A. Briggs and Elner (Calton) Biggs, brothers, Ted Biggs, Randy Biggs, William Wayne (Bill) Biggs, twin brothers, Wesley and Leslie Biggs, Jack Leo Biggs, Jessie Lee Doyle Biggs, sisters, Lucille (Biggs) Trammell, Addie Glen (Biggs) Housewright Jackson, Emma Jennie V. (Biggs) Honea, Odell (Biggs) Hardin, Mary Inez Biggs and infant baby girl (Stillborn), grandson, Rowdy Shane Granger.
We will celebrate the life of Kenneth (Ken) with a memorial service at 3:00 p.m. on January 14, 2017 at Kings Trail Cowboy Church, 498 Bethel Cannon Road, Whitewright, Texas.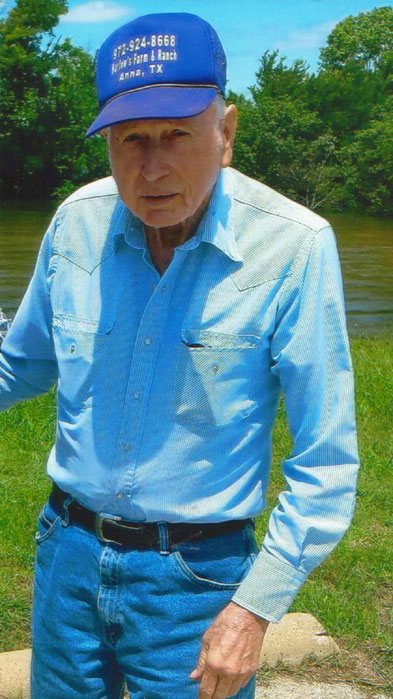 In lieu of flowers, donations can be made to UT Southwestern Medical Center for Parkinson's Research, 5323 Harry Hines Blvd., Dallas, TX 75390-9143, or call 214-648-2221.
The online register book may be signed at www.scogginsfuneralhome.com