Lifestyles
Texoma Medical Center welcomes first baby of 2017
Jan 7, 2017
Denison -- Texoma Medical Center welcomes the first baby born at the hospital in 2017. Baby New Year is Austyn Monroe Richardson who was born at 2:52 am on Monday, January 2. She weighs 6 pounds and 1 ounce, is 19.5 inches long and was delivered by Gary Grafa, MD, FACOG.
Her proud parents are Britanie and Tony Richardson who weren't expecting her arrival until January 27.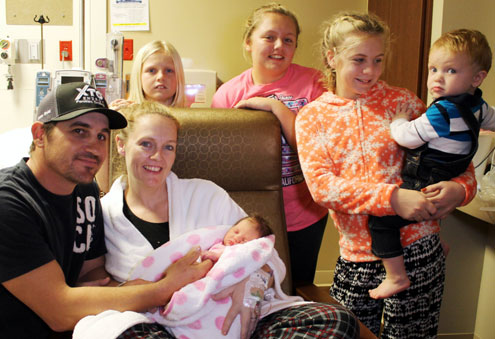 2017 TMC Baby New Year_Austyn Monroe Richardson and her family.
Baby New Year and her mother received gifts from The Birth Center at Texoma Medical Center, including a plush new robe that will be given to all new mothers who deliver their baby at TMC this year.