Obituaries
Billy Earl Dyer
Jan 3, 2017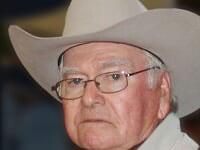 Whitewright, Texas -- Billy Earl Dyer, 86, of Whitewright passed away January 2, 2017 at Meadowbrook Nursing Home in Van Alstyne, Texas.

Bill and his twin brother Bob were born on April 1, 1930 in Carnegie, Oklahoma to Leavie and Eula May Dyer. Bill spent his childhood attending classes at Prairie Lone School, a little one room schoolhouse on the outside of town before attending Carnegie High School. In his early years he developed a strong love of agriculture by helping his dad, alongside his three brothers managing the family farm. Bill graduated from Carnegie High School in 1947 and Oklahoma State University in 1952 earning a degree in Agricultural Education. He spent thirteen years teaching and sharing his love of agriculture with his ag boys in Oney and Verden, Oklahoma. In 1964 he and his family moved to Whitewright, Texas to manage the newly opened Monsanto Fertilizer Plant. Bill spent 35 years selling fertilizer, but more importantly sharing his knowledge of farming and ranching with others in the community.

Bill married his high school sweetheart and the love of his life Billie Kathryn Loyd in 1948, and for 69 years they have been by each other's side. Bill and Billie Kathryn both retired in 1999 and they spent their retirement watching their grandchildren and great grandchildren show livestock, play sports and compete in rodeos. Bill loved his family and one of his favorite pastimes was telling stories and bragging on his grandkids that he was so very proud of. Bill's love of agriculture was everlasting, and even after retirement he kept a few cows and did a little farming.

Bill was an active member of the Kentuckytown Baptist Church, as well as an active member of the Whitewright community. He was a member of Whitewright Chamber of Commerce, Lions Club and the Whitewright ISD School Board for many years. He was also a lifetime board of director for the Texoma Livestock Exposition and Show, serving as the beef cattle superintendent for over 30 years. He loved watching good cattle and great kids in the show ring, and up until 2015 he had not missed the Texoma Livestock Show in 50 years. Bill will be forever remembered for his sense of humor, his great stories, and his honest love of people and his Oklahoma State Cowboys.

Bill is survived by his wife Billie Kathryn, son Darrell Dyer and wife Brenda of Huntsville, daughters Debbie Chambliess and husband Dan of Forney, DeeAnn Billner and husband Larry of Whitewright and Tracy Blum and husband Ronald of Howe. Grandchildren Toby Dyer and wife Courtney, Billy Chambliess and wife Christina, Travis Billner, Brad Dyer and wife Delana, Chris Chambliess and wife Christi, Lacy Bambico and husband Casey, Brittany Blum and fiancÚ Hayden Brown, Brooke Blum and eleven great grandchildren. Brothers Bob Dyer and wife Colleen of Fort Cobb, Oklahoma and Alan Dyer and wife Carol

Ann of Carnegie, Oklahoma, as well as numerous nieces and nephews and countless friends. He is preceded in death by his parents Leavie and Eula May Dyer, sisters and brother in laws Alma and Chick Griffith and Cleo and David Blalock, brother Glen Dyer, and in laws JC and Iva Lloyd.

Funeral services for Bill are set for 3:00 p.m., Thursday, January 5, 2017 at Kentuckytown Baptist Church with Pastors Greg Allen and Rodney Stanford officiating. Interment will follow at Oak Hill Cemetery in Whitewright. Grandchildren will serve as pallbearers. The family will welcome friends from 1:00 to 3:00 p.m. at the church on Thursday prior to the service.

The family would like to establish a scholarship in Bill's name to help the youth of Grayson County pursuing a career in agriculture. In lieu of flowers, donations to the Texoma Livestock Exposition would be appreciated for this purpose. Please make checks to TLE, P.O. Box 812 Howe, Texas 75459.