Lifestyles
Cooking For One Workshop in Bonham
Jan 16, 2017
BONHAM, Texas, January 5, 2017 -- Have you ever said "It's just me I'm cooking for, why bother?" Changes in household size or skills can make cooking a challenge. If you have recently suffered a loss, this workshop is for you - to give you recipe ideas, tips and tricks while allowing you to enjoy good food and the company of others. If you are a First Time Cook or Experienced Pro, this workshop supports you in finding ways to enjoy cooking for one.
The workshop begins on Monday, January 16th and continues for three Mondays – January 23rd, 30th and February 6th. We will meet at the TEAM Center 806 W. 16th Street, Bonham, TX 75418. Please register for the workshop by Friday, January 13th to Melinda Kyle at 903-868-9315 or Melinda.kyle@homehospice.org.
"In Cooking for One we are going to have a fun, interactive workshop to learn new ways to cook healthy and delicious meals on a smaller scale," said Nancy Jackson with Home Hospice of Cooke County. "When you suffer a loss, many times people are not used to cooking smaller or special meals and they get discouraged when they are only cooking for themselves. Working with each other and sharing ideas we hope to make cooking fun."
Those attending get to participate in planning menus, shopping lists and sharing cooking tips. Plus they will also receive a cookbook of recipes after they attend all sessions. And since the workshop is from 11:30 a.m. to 1:00 p.m., they get to help make and eat lunch together!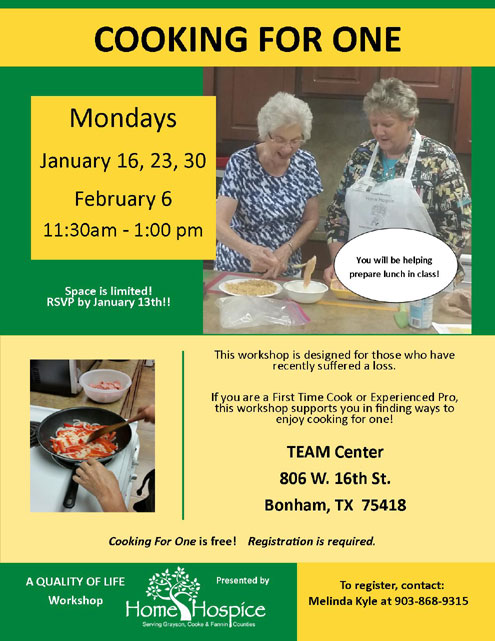 Home Hospice of Fannin County is a local community-based non-profit hospice. Our mission is providing the best care and support to enhance the Quality of Life. We value those we serve as they are our neighbors, our friends and our families. For more information please call us at 903-868-9315 or visit our website at www.HomeHospice.org or visit our Facebook page at www.facebook.com/homehospiceofgrayson.