Sports
Dorian Armstrong named Defensive Player of the Week for the second time
Jan 10, 2017
RICHARDSON – Texas A&M University-Commerce's Dorian Armstrong was named Lone Star Conference men's basketball Defensive Player of the Week, as announced by the conference office on Monday. It is the second time Armstrong has earned the honor this season.

Armstrong – a junior from Detroit, Mich. – continues to anchor the Lion defense and the same was true in both A&M-Commerce wins last week. He had two blocks and a steal against Texas A&M-Kingsville, while also pulling down eight defensive rebounds and altering multiple shots in the lane. The Javelinas shot just 31.5 percent from the field against the Lions, their lowest shooting percentage of the season.

Armstrong made his presence known again against Angelo State. He had three steals and pulled down seven rebounds to go along with nine points. He played a career-high 40 minutes in the overtime clash against No. 5 ASU. He particularly helped shut down the Rams in the overtime period, where they shot 37.5 percent from the field.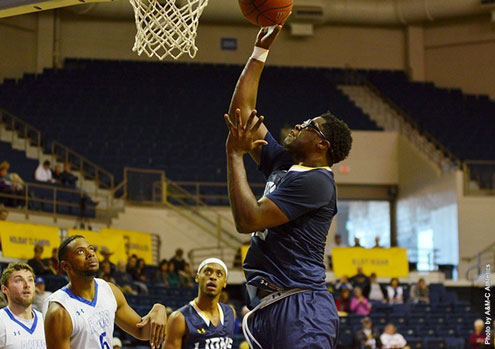 Dorian Armstrong photo courtesy of Texas A&M University-Commerce Athletics



Armstrong was also efficient on the offensive end. He shot 67 percent from the field, averaging 6.5 points and eight rebounds. He leads the conference in blocked shots and is eighth in rebounds.

Armstrong and the Lions return to action on Tuesday as they are set to battle No. 9 Tarleton State. Both teams are 5-1 in conference action and tied for first place.