Local News
Burn Ban in effect for Fannin County
Jan 12, 2017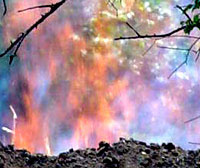 Fannin County, Texas -- With warm temperatures and high winds forecast for the next three days, Fannin County Commissioners court issued a countywide outdoor burn ban to counter the threat of a fast-moving grassfire.

Fannin County Emergency Coordinator Darrell Brewer stated the fire departments are responding to an increase in grassfires, including one that burned 150 acres.

"Even when it is muddy, fire will run across the grass," Mr. Brewer explained.

Commissioner Jerry Magness suggested that a burn ban could be issued and then reviewed on a week-to-week basis.

A significant rainfall event is expected Friday, January 13.

In other business, commissioners appointed Fannin County Sheriff Mark Johnson to the FPC Board of Directors.

Fannin County Commissioners Court tabled two agenda items for further consideration; a Records Management Policy & Plan, as well as the final decision regarding constructing a 9,100-square-foot building on the northeast corner of Lipscomb Blvd. and East Sam Rayburn Drive versus purchasing the 17,000 square-foot Rainbow Building on the north side of TMC Bonham Hospital.