Local News
2017 Annual Chamber Awards Banquet Feb. 25
Feb 25, 2017
Building on Our Past
Bonham -- In honor of the impending Fannin County Courthouse restoration, the Bonham Chamber of Commerce will be acknowledging Bonham history with our "Building on our Past" theme for the 2017 Bonham Chamber of Commerce Annual Awards Banquet.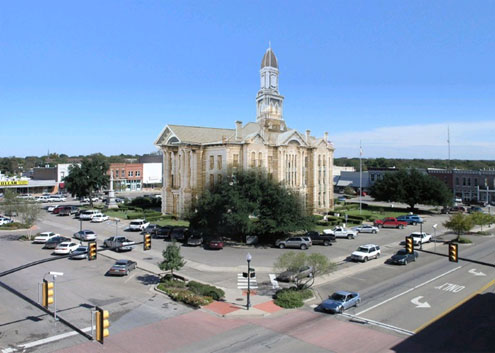 Artist's concept of a restored 1888 Fannin County Courthouse towering over downtown Bonham.
The Banquet is the time when we honor some of Bonham and Fannin County's most outstanding businesses and citizens from the previous year. We will recognize: Public Servant of the Year, Business of the Year, Volunteer of the Year, Citizen of the Year, New business of the Year, and Agriculturalist of the Year.
The evening begins at 5:00 p.m., February 25, at the Fannin County Multipurpose Complex, with wine tasting and hors d' oeuvres. Non-alcoholic beverages will also be available. Dinner begins at 6pm with the presentation of awards and live auction featured after the meal. New to 2017, the wine tasting portion will include eight tasting tickets, and participants will be able to choose from a variety of wines provided by four local wineries. Single glass and bottles will be available for direct purchase from the wine vendors as well.
The Table Décor Championship Returns! Our 2016 Champion had had the plaque all year, but who will take it home this time? How it works: Table sponsors deck out their tables in any appropriate theme of their choosing. Attendees vote by dropping money into their favorite tables' boxes. The table with the most in their box at the end of the night wins. It's that simple!
This competition is a Chamber of Commerce fundraiser. Participation in the competition is not a requirement. Winner goes home with the annual plaque for the year with their name engraved on the 2017 card.
The Chamber will be selling tickets until February 23. Individual tickets (Meal Only): $30. Meal and Wine Tasting: $40. Table for Eight (Wine tasting for eight included) $400. Two tables (and wine tasting): $750.
Come out and help make this a great day for these deserving honorees. Everyone is welcome! Tickets can be purchased online now at www.bonhamchamber.com or call the Chamber at: 903-583-4811.