School News
DCCCD announces open forums on concealed (campus) carry
Jan 28, 2017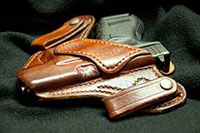 Dallas – To prepare for and discuss concealed (campus) carry at its colleges and locations which begins on Aug. 1, 2017, the Dallas County Community College District has announced a series of open forums in January and February to gather comments from students, employees and community members.

Senate Bill 11, passed by the Texas legislature and signed by the governor in June 2015, permits a licensed-to-carry holder to carry concealed handguns on campus. The law also allows DCCCD and other institutions to adopt rules or regulations that prohibit LTC holders from carrying concealed handguns in certain areas on a campus, in a building or a portion of a building, as long as the rules and regulations do not have the effect of generally prohibiting a license-holder from carrying a concealed handgun on campus, according to DCCCD's general counsel, Rob Wendland, and the district's new police commissioner, Lauretta Hill.

"The law does not allow 'open carry' on college campuses," said Hill. "Open carry refers to the intentional display of a handgun, including the partially- or wholly-visible handgun stored in a shoulder or belt holster." She added, "The law also does not allow the carry of rifles or shotguns on college campuses."

The concealed (campus) carry community forums, which are free and open to DCCCD students and employees – as well as the general public – are scheduled at these locations:
Richland College

– Tues., Jan. 31, in Sabine Hall, room 118, 6:30 p.m.; the college is located at 12800 Abrams Rd. in Dallas.

Eastfield College

– Wed., Feb. 8, Pleasant Grove campus (802 S. Buckner, Dallas), 6 p.m. and also on Thurs., Feb. 16, S Building, rooms 100/101, 6:30 p.m.; the college is located at 3737 Motley Dr. in Mesquite.

Mountain View College

– To be announced.
For more information, contact Ann Hatch in the DCCCD office of public and governmental affairs at 214-378-1819 or at ahatch@dcccd.edu.