School News
Applications now being accepted for Camp 43
Mar 18, 2017
A 3-day summer camp for teenagers, the George W. Bush Presidential Library and Museum's Camp 43 offers an extraordinary leadership development experience.
DALLAS (February 9, 2017) – The George W. Bush Presidential Library and Museum will accept applications from 2017, 2018, and 2019 high school graduates for "Camp 43: Leader of One, Leader of Many" until April 14, 2017.
"Understanding the concepts of personal values, principle-based decision making, leadership, and planning for the future are critical for a young person's success, both professionally and personally," said Patrick X. Mordente, director of the George W. Bush Presidential Library and Museum. "I think we've done an excellent job this year filling Camp 43's itinerary with wonderful, unique experiences for our students."
Held June 21-23, 2017, 25 high school students will be accepted for the 3-day summer camp. There is no cost for the camp. Lunch and snacks are provided daily along with a formal dinner on June 23 to conclude the camp. All participants are responsible for their own daily transportation to and from the George W. Bush Presidential Library and Museum, located on the campus of Southern Methodist University in Dallas.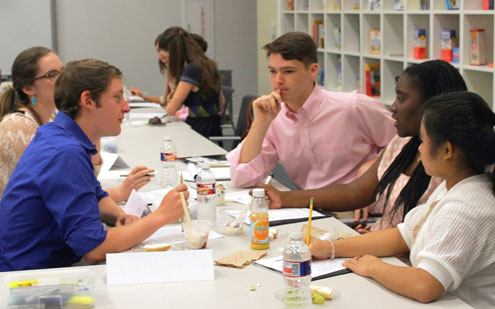 "It was so beneficial to be in a room with like-minded students. We definitely fed off each other's excitement and experiences," said Lauren Mora, a 2017 graduate of Dallas' Woodrow Wilson High School and a member of the 2016 Camp43. "The guest speakers and their accomplishments were amazing. Hearing their real-world advice, and learning about their challenges and how they fought to overcome them will absolutely help me when I enter the workforce." (photo courtesy George W. Bush Presidential Library and Museum)
Focusing on the importance of leadership and the decision-making process, participants will discover how values and personal beliefs affect their decisions, develop skills for working with diverse groups, and hear first-hand from high-level business executives about the methods they use to make decisions. The experience includes group activities, discussions, and presentations from prominent and successful community and government leaders.
"One very exciting part of Camp 43 is a real-time simulation in which the students take on the roles of members of the President's Administration and collaborate to resolve a crisis," said Education Specialist Sharon Brannon. "The exercise is very useful in and of itself, but having it take place in the actual historic room from the White House adds authenticity and tremendous energy and enthusiasm."
Interested students should submit this application form, answers to three short essay questions, two professional letters of recommendation, and a resume to Bush43Education@nara.gov.
Completed and signed applications must be received by the close of business on April 14, 2017. Applicants will receive notification of acceptance or placement on a wait list and information about camp logistics via e-mail no later than May 19, 2017.