Local News
Mark your calendars for Honey Grove Chamber of Commerce Annual Banquet
Mar 12, 2017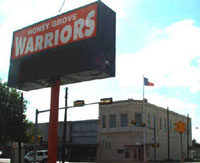 Honey Grove -- The Honey Grove Chamber of Commerce Annual Banquet will be held March 30, 2017 at 6:30 p.m. in the Honey Grove High School Cafeteria located on N. 17th Street. Come join us for this fun-filled evening of good food and great entertainment. We will recognize special citizens and volunteers as well as take a look back at the 2016 Chamber year and get a glimpse of what the new year holds in store for the Honey Grove Chamber of Commerce.

Musical entertainment for the evening will be provided by the Slightly Used Band from Paris, Texas, who will bring us their own brand of the blues.

As an added treat, we are pleased to announce that motivational speaker, humorist and TV personality, Chad Prather, will round out our entertainment, bringing us his very special style of southern wisdom.

The meal will be catered by Savory Sisters from Paris, Texas. There will be silent auction and live auction items.

Join us for this exciting event in the life of our community. You will find more information on our Facebook page. Tickets are on sale now and this year you may purchase tickets online by visiting our website. Ticket prices are $25.00 per person. Table sponsorship is available. If you are interested in sponsoring a table for your business or your group, or if you need other information regarding the banquet, please contact Brian Owen at 903-378-3112.

Ticket deadline is March 23, 2017.

We look forward to seeing you on March 30!