Lifestyles
'Unique by Nature' Juried Art Competition, Exhibition & Sale April 1-22 at McKinney Performing Arts Center
Mar 20, 2017
Call for Entries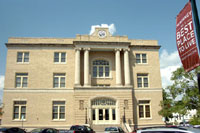 McKinney -- Hosted by the McKinney Performing Arts Center, with help from the volunteers of the Arts and Music Guild, this premier regional art competition will award cash prizes totaling $10,500 to regional artists who submit their work for consideration.

One large scale work (2D) will be awarded the Purchase Prize, and will become part of the permanent public art collection of the McKinney Performing Arts Center. An additional $2500 in prize money will be divided among five works of art juried into the exhibit (non-purchase prize) and chosen by the judge.

Sponsors and jurors include citizen leaders, art collectors and artists dedicated to the growth of the arts in McKinney. This year submissions will be juried by a panel including Amy Rosenthal, Director of the MPAC; Helen Bailey, award-winning artist; and Russell Tether, Russell Tether Fine Art; and a representative of the McKinney Arts Commission. Prize winners will be chosen by this year's judge Robert Jessup, Chair of the Department of Studio Art at the University of North Texas, College of Visual Arts and Design.

Online submission deadline for large scale Purchase Prize category was March 17. All other artwork must be submitted in person at MPAC on March 25. For a complete prospectus, please visit www.ArtsandMusicGuild.com.

Please visit MPAC in downtown McKinney to view the previous years' Purchase Prize winners now in the permanent public art collection.

"Unique by Nature" is open to professional and emerging artists who are legal residents of the United States and at some point have been residents of Texas. Entrants must be at least 17 years of age by May 2017.