Columnists
This is 'the pits'
Feb 25, 2017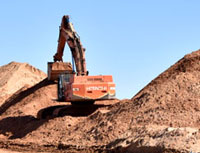 FACT: Considerable sand mining is going on in Fannin County now and will continue for years to come. A sand mining company/industry must first obtain a permit from the TCEQ (TX Commission for Environmental Quality). Once that permit is obtained, the sand mining company has no obligation to reclaim the property it mined. Thus, large crater-like holes
can
be left on whatever property is mined.
The Sand Mining Task Force of CORE (Citizens Organizing for Resources & Environment),
www.texomaCORE.org
, has drafted a Legislative Bill to be submitted to our legislators that would require TCEQ to mandate reclamation be done. A delegation will present this to our legislators, requesting that they
sponsor
this Bill during the 2017 Legislative Session. Legislators from other Districts
can also co-sponsor
such a Bill.
If you are in favor of the Legislators from our District sponsoring this Bill,, please contact them ASAP by calling the following contact numbers:


Senator Bob Hall-- (512) 463-0102 in Austin; (903) 454-2880 in Greenville

Representative Larry Phillips-- (512)463-0297 in Austin; (903) 891-7297 in Sherman