Local News
Blue Shirts for Child Abuse Awareness
Mar 20, 2017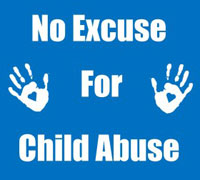 Fannin County, Texas -- The Fannin County Children's Center has designed a new blue shirt for Child Abuse Awareness Month in April 2017. This royal blue shirt still has the "No Excuse For Child Abuse" slogan on the front.

New in 2017 will be that on the back of the shirt there will be the words "I stand up for children" and the names of local businesses, schools, churches, civic clubs or other organizations who make a donation of at least $100 by March 22. A $100 donation will also get the donor 10 shirts in the sizes of their choice.

For a donation of at least $10, donors can choose to get one shirt or one yard sign with the "No Excuse for Child Abuse" slogan.

The Fannin County Children's Center's mission is promoting safety and improving the lives of abused and neglected children. The agency's programs include CASA, Children's Advocacy Center and child abuse prevention classes.

Donation forms are available at www.fanninccc.org or at the center at 112 W. 5th in Bonham. For questions, call (903) 583-4339.