Front Page
Texoma Household Hazardous Waste Collection Event
Mar 20, 2017
Texoma Council of Governments (TCOG) is pleased to announce that the 2017 region-wide Texoma Household Hazardous Waste (HHW) Collection Event has been scheduled for Saturday, April 22 from 9:00 a.m. until 1:00 p.m.
Residents may take household quantities of hazardous materials, tires and electronics to the drop-off location located in their county of residence or another location if closer to place of residence.
Cooke County
Cooke County Justice Center
300 County Road 451
Gainesville, TX 76240
Fannin County
Precinct 4 County Warehouse
1369 E. Sam Rayburn Dr.
Bonham, TX 75418
Grayson County
Grayson College
6101 Grayson Dr. (FM 691)
Denison, TX 75020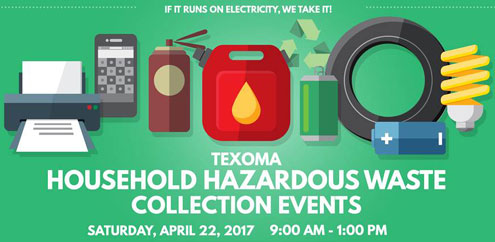 For more information please visit www.tcog.com/msw or contact Michael Schmitz at (903) 813-3565.