Lifestyles
Bonham Grief Support Group offered by Home Hospice of Grayson, Cooke & Fannin Counties
Mar 20, 2017
Bonham, TX -- Home Hospice of Grayson, Cooke & Fannin Counties will continue the Bonham grief support group in Fannin County starting Thursday, March 23, 2017. The weekly support group meets every Thursday from 2:00 p.m. till 3:30 p.m. Each week the group, led by Karen Martinez, Spiritual Care Counselor, will discuss topics such as "understanding grief" and "myths about grief" as well as "Accepting Our New Normal" and "Finding Peace in the Midst of the Storm that is Grief." They will also discuss ways to cope with grief in healthy ways and for the long-term. The group will meet at the Fannin County Family Crisis Center at 118E. Sam Rayburn Drive in Bonham, TX.

"Many times people seek counseling from one source, find it doesn't help them reach 'normal' and are at a loss on how to take another step. This group allows people to share their thoughts with others who are experiencing similar situations. The process often provides comfort and an opportunity for the next step" said Karen Martinez, Spiritual Care Counselor

Each Thursday the group will meet to discuss grief issues, provide support, and work together to navigate the pitfalls of loss. You can attend meetings each week or just once if you choose. There is no fee to attend but we ask you to call us to register at 903-868-9315. We hope you will join us each week.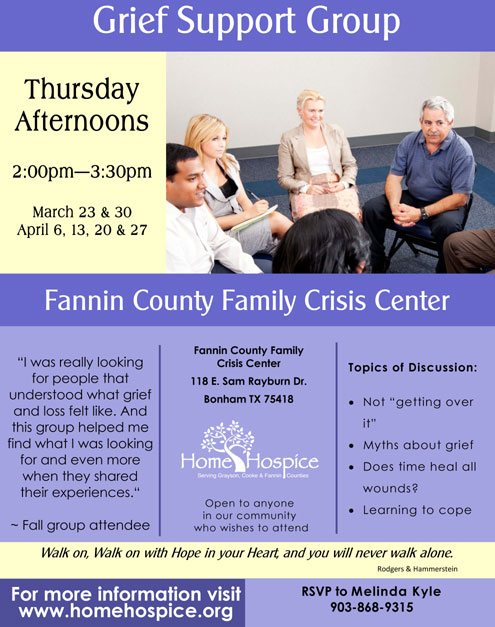 Home Hospice of Grayson, Cooke and Fannin Counties is a 501(c)(3) local community-based organization founded in 1982 and serving our communities for over 35 years. As the oldest and most trusted local hospice organization our mission is to provide the best care and support enhancing the Quality of Life of our patients and their families. To learn about other community outreach programs offered by Home Hospice, please visit www.homehospice.org or visit our Facebook page at www.facebook.com/homehospiceofgrayson.