Obituaries
George Christopher 'Chris' Richardson
Mar 12, 2017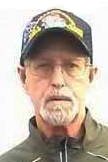 Leonard, Texas -- Funeral services for George Christopher "Chris" Richardson, 59, of Irving, Texas will be held at 2:00 p.m. on Monday, March 13, 2017 at Turrentine-Jackson-Morrow Funeral Home in Leonard, Texas with Pastor Bill Ashburn officiating. Visitation will be one hour prior to services. Interment will follow at the Leonard Cemetery.

Chris was born on December 30, 1957, in Leonard, Texas, to George Andrew Richardson and Marjorie Dean Daughrity Patterson. He enjoyed telling jokes and making others laugh. He was a journeyman electrician by trade and worked in the Irving, Texas area most of his adult life. He passed away on Saturday, March 11, 2017 after a lengthy illness.

He is survived by his mother, Marjorie Patterson of Garland, TX; his brothers, Mike Richardson and wife Jan of Tyler, TX and Billy Wayne Richardson and wife Margie of Ennis, TX; his aunt, Laura Williams and husband Terry of Leonard, TX; his children, Angi Gordon, Crystal Richardson, Christy Tankavich, Joshua Richardson, Jennifer Richardson, Elizabeth Richardson, Stephanie Wright, Zachary Richardson and 18 grandchildren.

He was preceded in death by his grandparents, J.C. (Papaw) and Gearldine (Mamaw) Daughrity, and his aunt, Linda Gail Newton.

Serving as pallbearers are James Richardson, Curtis Richardson, Nathan Richardson, Alex Doblado, Bubba Martin and Juan Monzon.

Turrentine-Jackson-Morrow Funeral Home of Leonard is in charge of arrangements. An online registry may be signed at www.tjmfuneral.com.