Lifestyles
Sherman Community Players present The Man Who Shot Liberty Valance
Apr 16, 2017
Sherman Community Players announce
The Man Who Shot Liberty Valance
Written by Jethro Compton

The Sherman Community Players announces that they have cast their most recent production of their 68th season and rehearsals are well under way in the fourth show of their five show main stage season. This time the players dive into Western genre with Jethro Compton's adaptation based on the short novella by Dorothy Johnson, The Man Who Shot Liberty Valance.

(L-R) Ed Richardson, Dakota Foster, Scott Horsley, Randy Norris, Matt Maxwell, Maxwell Norris, Anthony Nelson
Amongst the talented cast portraying the rich characters that make up the fictional Western town of "Twotrees" are: Ed Richardson, Heidi Schiebmier, Sholden Daniels, Maxwell Norris, Bruce Butler, Benjamin Fuhr, Scott Horsley, Dakota Foster, Matt Maxwell, Randy Norris, and Donna House. The production is stage managed by Pamela Sanza, assisted by Lisa Hebert, and Scott Horsley. Costumes are being designed by Tina Ross and Dave Westbrook is returning as the fight choreographer-- this will be Dave's fifth production with the players after his work on Les Miserables and the Three Musketeers.
"We are having a blast with this script, no pun intended," explains Artistic Director of SCP Anthony Nelson. "I grew up watching westerns, specifically, John Wayne westerns with my father as a child, and when the script was presented to the SCP Play reading committee last year, I was super eager to get to work on it. This production is going to be my homage to those precious memories from my youth."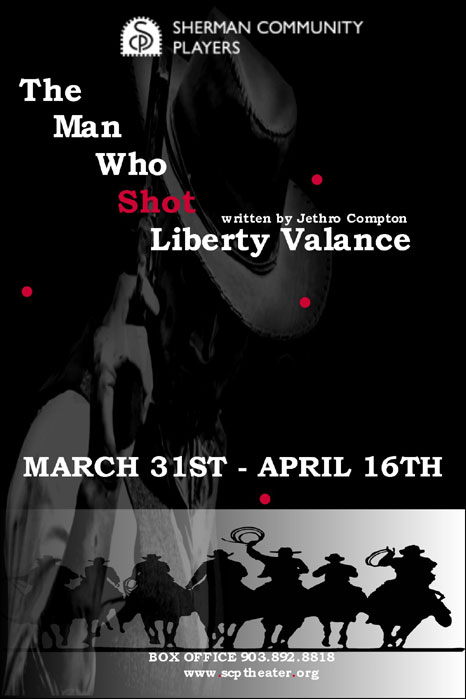 The Man Who Shot Liberty tells the story of Ransome Foster, a drifter who is badly beaten and seemingly left for dead in a western territory north of Twotrees - Burt Barricune (John Wayne's character from the 1950s Hollywood film) finds the drifter and brings him into town and into the Saloon of a Miss Hallie Jackson. Hallie and her bar back, Jim, befriend the loner, and he begins his rehabilitation and strikes a bargain with the saloon owner. She agrees to board him if he will teach her lifelong friend Jim to read; Foster takes to the idea and ends up starting a school for English in the dilapidated tavern. News of this 'new' school spreads across the land and the gangster known as Liberty Valance gets wind of the progressive idea. He doesn't approve and enters the town, looking for Foster and tragedy follows suit.
"It's a pretty serious story we are telling here," says Nelson, "and we are taking great pains to make sure we treat the material with the sensitivity and wisdom it deserves."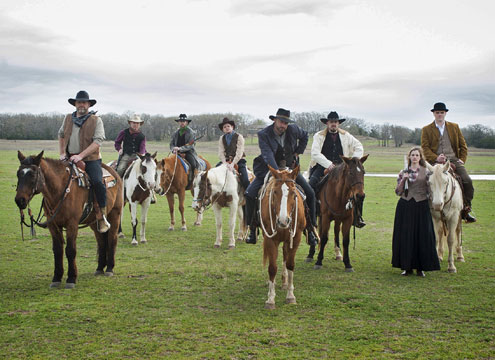 (L-R) Ed Richardson, Randy Norris, Matt Maxwell, Dakota Foster, Anthony Nelson, Scott Horsley, Heidi Scheibmeir, Maxwell Norris
Tickets for Liberty Valance can be purchased by calling the box office at 903-892-8818 or by visiting www.scptheater.org and patrons can purchase on line. SCP is also pushing back the Easter performance on April 16 to 4:00 p.m., so people can enjoy their Easter traditions uninterrupted.