Lifestyles
Red River Rose Society to meet March 21
Mar 21, 2017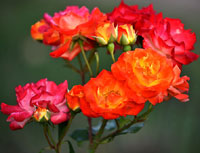 Sherman -- The Red River Rose Society will meet Tuesday, March 21, 2017. The evening will begin with a Dutch treat dinner at 5:00 p.m. at La Mesa Mexican Restaurante` and Cantina, 2124 Texoma Parkway in Sherman, Texas. The meeting will begin at 6:30 p.m. at the United Way building at 713 East Brockett in Sherman.

Ellen Diers, a Denton County Master Gardener since 2014, will be the speaker. Her topic will be, "Companion Plants that Attract Pollinators." She will discuss partner plants for roses, highlighting the many native and adapted plants available to gardeners in North Texas. Ellen is a member of the Dallas Area Historical Rose Society and their Rose Rosette Eradication Alliance. She will give attendees an update on Rose Rosette Disease research and management techniques.

Gardeners are always welcome to join us for dinner and the meeting. Members may bring their pruning shears for sharpening, for a donation to the RRRS of $5 per tool. Roses will be given away as door prizes.