School News
Cedar Valley student answers the call to protect and serve
Mar 17, 2017
Dallas – Who will answer the call to become police officers?
Angela Y. Davis didn't think twice about it. Following the fatal shooting of five Dallas police officers last July, she enrolled in the Cedar Valley College Law Enforcement Academy training program. Almost 10 months later, she's set to graduate from the academy on March 23.
"I would like to be part of a movement of educating the public about the duties and fears of police officers," she said. "I feel I can relate to both lifestyles as a public servant who is simply trying to return home safely to my family."
In doing so, she hopes to sidestep judgement and harassment and to find some common ground between officers and the residents they serve.
"Both parties are more alike than some would care to admit. I would like to help with the problem instead of becoming the problem, "she said.
Following the July 7 attack, Dallas Police Chief David Brown, who recently retired, called on protesters to join DPD's ranks and help resolve problems that led to police and community discord. For Davis, 36, the shootings only steeled her resolve.
In spite of the dangers, she was never discouraged from her goal to serve and protect her community. She is counting on her experience in public service where she already has worked as a jailer, clerk and – for a short period – volunteer Dallas County firefighter and paramedic.
Davis said her goal of becoming a police officer is a natural step as she comes closer to possibly patrolling the Oak Cliff neighborhood where she grew up.
"I just love public service, all forms of it. That's where my heart is. I want to serve others. I've looked at all forms of public safety. I've always thought there are different ways of serving the public," she explained.
Davis worked for the Dallas County Jail as a detention service officer. And, while living in Arizona, she worked for the juvenile jail. She also has served stints as a court clerk for the cities of Red Oak and DeSoto.
"A lot of people have not had a chance to see both sides of public service," Davis said. "Basically, they don't know what the other side is going through. The line of communication has to be more open for the police and the community members they serve. Mutual trust will come with interaction. That's why we talk. Maybe a better understanding will come about, and bridges and walls will be torn down."
Davis' instructor, Lt. Mark Smith, said she has shown leadership and, for that, he has named her "sergeant" of her class. The title is largely ceremonial, but it makes Davis the "go-to person" among her peers, he said.
"Angela has done very well in the academy up to this point, and she has taken her duties in that role with the same professionalism I see in everything else she attempts," said Smith, director of the academy.
"I found a young woman who I believe embodies modern-day police work and the call that we receive to do this job," Smith said. He describes Davis as disciplined, focused and determined.
Why would anyone pursue police work?
Men and women who want to become police officers face many challenges. Their character is tested. That is part of the training in an atmosphere where law enforcement has endured a searing and, some say deserved, public relations problem.
Police work is not for everyone, Smith said. The training is rigorous: the stress, palpable.
"I have great hopes for Angela," said Smith. "She has a great attitude and always asks 'How can I do that better?' Our job at the academy is to make them believe in law enforcement. But we can't put this (belief) in their hearts. They have to come here with that. Not everyone can do this type of work."
Davis has demonstrated skill in the physical stamina and mental demands of becoming an officer.
Concerned about her shooting technique, she is eager to ask questions. During a recent class, she practiced her target stance in Smith's office. "Am I leaning in?" she asked Smith recently as she aimed a training pistol. Her feet were steadied, and her nerves appeared calm. Her eyes never left the target.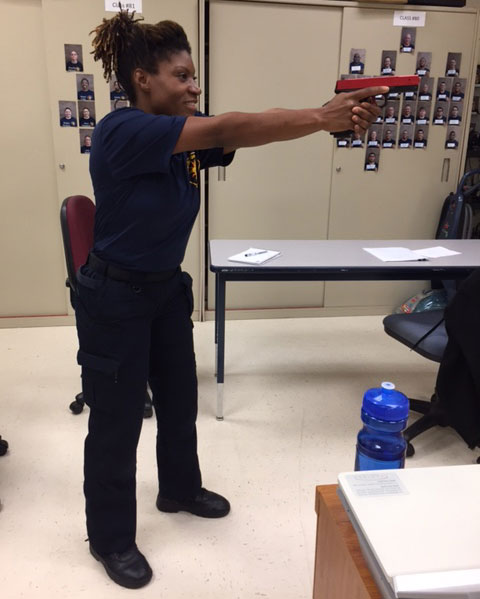 Angela Y. Davis practices her shooting stance.
Peace officer trainees must master physical and tactical rigors in an environment that mirrors what they will face on the job, Smith said.
Build trust, erase fears
Davis wants to pair her police academy experience with her firefighter training to become an investigator. "I am a problem solver," she reiterated.
Davis finds strength in her classroom studies and among her peers. She knows there is a lot of stress in police work. She has heard the critics who complain that officers too often rely on excessive force. And she has heard talk that officers are tasked with solving too many social ills.
She hopes to be among the officers who bridge that gap.
"We need to get to know one another, and that brings about understanding," Davis said. "We are all human, and any one of us can have a stressful day. The trust will come with interaction. Maybe a better understanding will come about, and barriers will be torn down."
Davis will receive her certificate when she graduates; last week, she took and passed the required Texas Commission on Law Enforcement or TCOLE exam. "I have successfully completed all academy and state requirements for a Basic Peace Officer in the state of Texas," she said. Passing the test means Davis will become a certified peace officer who is eligible to work for any city, county or state law enforcement agency in the state.
"My family is always asking, 'Are you sure you want to do this?' And, yes I'm very sure. This is why I'm here," declared Davis.
In addition to Cedar Valley's program, Eastfield College also offers basic peace officer training. Both schools are licensed by the TCOLE. For more information, visit Cedar Valley College's Law Enforcement Academy or Eastfield College's Criminal Justice Training Center.