Religion
Local Unitarian Universalist church to celebrate 20th anniversary
Mar 22, 2017
Denison -- On the evening of March 26, 1997, nineteen brave, curious and compassionate people gathered in the Little Chapel at Austin College. They listened to a brass quartet. They heard a sermon, "Why Is There No Shouting In The Sanctuary?" They sang familiar hymns with different lyrics. They lingered afterwards to talk about the experience, and they went home. They liked what they heard. The first seeds of Red River Unitarian Universalist Church were planted that night.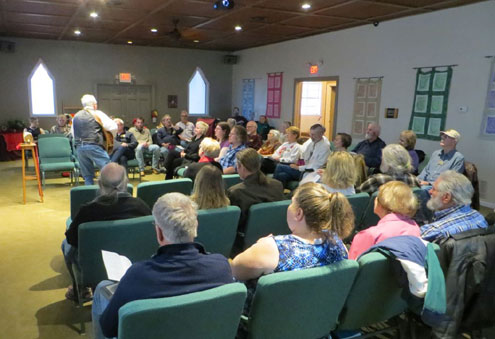 Many in that initial group were surprised to learn that Unitarian Universalism is anything but a new religious movement, tracing its roots back to before the founding of the United States. They were intrigued that a religious movement which eschews both dogmas and creeds has flourished for centuries by encouraging individuals to seek their own spiritual path while respecting the paths others take.
The Red River Unitarian Universalist Church, a lay-led congregation, started as an outreach ministry of Dallas North Unitarian Church (now Community Unitarian Universalist Church) in Plano with the Plano minister leading worship one Wednesday evening a month. Within a year the group had grown and was meeting every Wednesday evening, then shifted to Sunday evenings, then to Sunday mornings. They met at Grand Avenue Presbyterian Church for several years, then rented an unused church building in Denison.
In 2011 they purchased a one-hundred-year-old house at 515 North Burnett Avenue in Denison, a former funeral home, that had had a chapel added in the 1970s.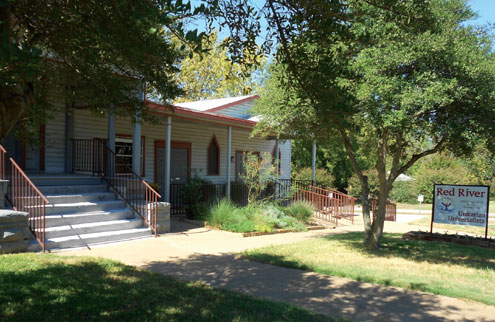 Beyond the Sunday morning assembly, the church community is involved in helping the larger community by participating in Habitat for Humanity; gathering school supplies for Terrill Elementary School; working with Get Out the Vote, a voter registration project; and assisting the Grayson County Shelter. The church is also a life member of Grayson NAACP chapter; and for nine years has been the lead coordinator for the annual Texoma Earth Day Festival. The church installed the first Little Free Library in Grayson County and keeps it stocked with a variety of books, especially children's books.
This Sunday, March 26, marks exactly 20 years since the initial meeting of what became Red River Unitarian Universalist Church, and the Reverend Doug Strong, who preached that first sermon, returns to speak at the 11:15 AM Morning Assembly. His remarks, "What Do We Promise One Another?" will explore how a community of religious liberals finds harmony when individuals hold divergent political opinions. Special music will be provided by two youth in the congregation, Angie Cates on violin and Eleanor Dyer as soloist.
A reception follows the service.