Real Estate
Celebrate springtime at Trinity Falls April 2
Mar 29, 2017
McKinney, TX -- Celebrate spring's arrival with butterflies and festivities at Trinity Falls, noon to 4 p.m. Sunday, April 2.
The delicate winged creatures will take center stage in the McKinney community, 7801 Trinity Falls Parkway, with a butterfly release, demonstrations and art installations.
A representative from Heard Museum's Nature Texas Butterfly Garden House in McKinney will be on hand to demonstrate the life cycle and migration patterns of butterflies. In addition, 18 butterfly sculptures will be on display in Trinity Falls. The colorful statues will sport wingspans of up to 8 feet and heights ranging from 6 to 12 feet.
"Nothing says spring like a bevy of butterflies," said Jim Baker, General Manager of Trinity Falls. "The statues will add more than a touch of whimsy to the celebration, however. We are planting butterfly-friendly plants throughout the community in hopes of attracting Monarch butterflies as they make their way to Canada in the fall."
In addition to the butterflies, the free festivities will include live music by Shayne Green, a face painter, baby animal petting zoo, the Bubble Guy science shows, a wine garden, kids' crafts provided by Home Depot and food trucks. KLUV FM also will be on hand.
The community's 11 well-appointed model homes will be open and visitors touring at least five homes will be entered into a drawing for a Great Outdoors McKinney package, including kayaking on Lake Lavon and dinner for four at Rick's Chophouse plus a bottle of wine from Landon Winery.
The free, public event is part of the DFW Showcase Tour of Homes. The tour, sponsored by Trinity Falls developer, Johnson Development Corp., encourages the public to visit hundreds of homes, including 22 models in two Dallas-Fort Worth communities throughout April.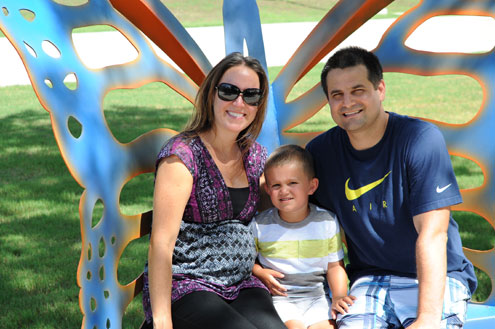 Trinity Falls in McKinney is hosting an afternoon of fun for the entire family during Springtime at Trinity Falls, noon to 4:00 p.m. Sunday, April 2. The event is free and open to the public.
For more information, about Trinity Falls visit https://www.trinityfalls.com.
For more information about the the DFW Showcase Tour of Homes, visit www.dfwshowcaseofhomes.com.