Lifestyles
POSTPONED: Whitewright's First Annual Music on Grand
Apr 27, 2017
Editor's note: This outdoor concert, originally planned for April 29, has been postponed due to rain in the forecast.
Whitewright, Texas -- Join us in Whitewright, Texas on Saturday, May 20 as we host the First Annual Music on Grand! You will be entertained by a great line-up of artists. "Country music isnít dead, itís in Whitewright."
This will be a family-friendly event focused on bringing family and friends together. There will be a bounce house, dunking booth, sidewalk vendors, food, drinks and more.
Come check out all the local singer/songwriters, that will be displaying their talents including:
2:00 p.m. - Timmy & The Naturals
3:00 p.m. - Smith & Wesson
4:00 p.m. - Sideshow Drifters
5:00 p.m. - Tinman Travis
6:00 p.m. - Brad Purdom
7:00 p.m. - Hopson & The Heretics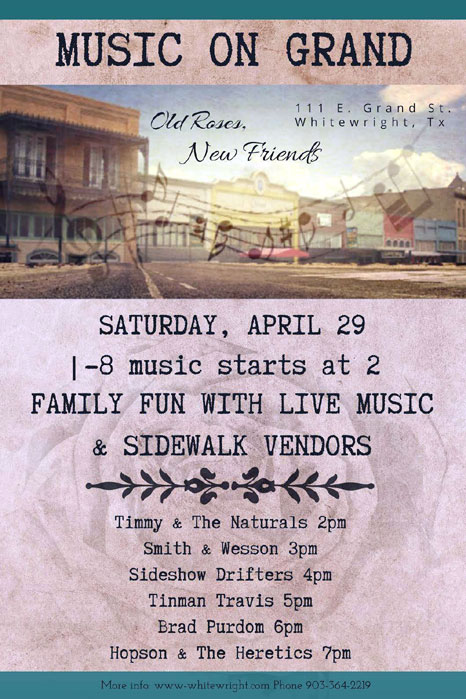 For more information go to our Event page at https://www.facebook.com/events/131416350723866/ for more details and updates of all the fun that will be coming to Grand Street in historic downtown Whitewright.
BYOC!!! Bring a bag chair or whatever you want to sit on to enjoy the show.