Local News
A Blessing for Bonham
May 14, 2017
Bonham -- There's something new on the parking lot at First Presbyterian Church in Bonham. The wooden box, installed on the south side of the Williams Education Building near 9th and Center Streets, will soon provide donated nonperishable foods and toiletries for those in need. Known as a Blessing Box, it is intended to supplement the local agencies that work to meet the needs of the hungry on a regular basis.
"There are people who can't always make it to the food pantries during their regular hours of operation," said Cindy Godbey, FPC Mission Committee Chair. "Also, there are those who may be too proud to make an official request for help, and those who just need a little extra help at the end of the month."
The Blessing Box is always open for those in need. The central location of the box makes it easy for anyone to donate items at their discretion when it is convenient.
"Take what you need, bring what you can," is the message to be displayed on the doors of the box, which will be dedicated in a brief ceremony immediately following the Community Palm Sunday Service on Sunday, April 9. The service begins at 5:00 p.m., with the dedication and a time of fellowship to follow. Those attending the service are invited to bring an item to place in the Blessing Box to get the project off to a good start.
"The Blessing Box is ultimately about neighbors helping neighbors," said Godbey.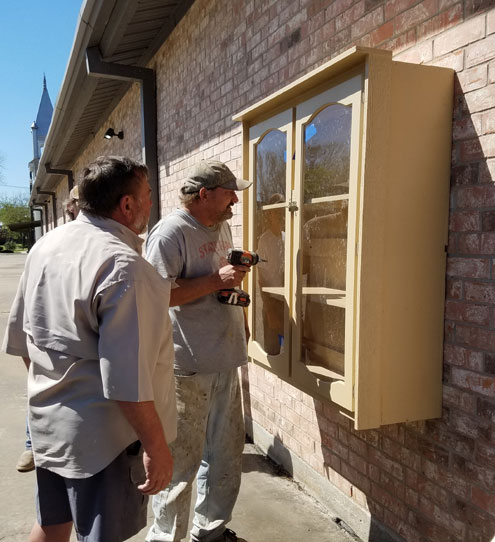 For more information, please contact First Presbyterian Church at 903-583-2014.