Local News
April is Child Abuse Awareness Month
Apr 16, 2017
Fannin County, Texas -- Professionals and volunteers fighting child abuse in our community gathered to witness Fannin County Judge Spanky Carter signing a proclamation declaring April as Child Abuse Prevention and Awareness Month in Fannin County.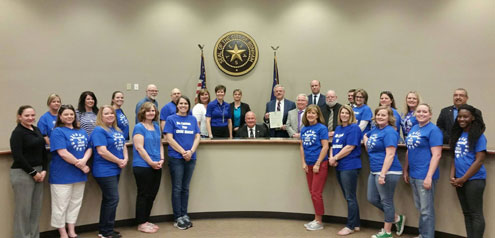 photo by Leah Gibby
Representatives from the courts, prosecution, law enforcement, Child Protective Services, CASA and the Children's Advocacy Center work collaboratively every day to make our community safer for children, help victims heal and seek justice.
The Children's Center is offering a free training class regarding Recognizing and Reporting Child Abuse. The class will be Tuesday, April 18 from 5:30 – 7:00 p.m. at the Children's Center at 112 W. 5th in Bonham. To reserve a spot, contact Andrea at (903) 583-4339 or andrea@fanninccc.org.
Blue Sunday is April 30. It is a day that churches and other faith communities are encouraged to pray for child abuse victims and the professionals and volunteers who are working to stop abuse. For more information, go to www.bluesunday.org.