Local News
Easter Egg Roll at the Eisenhower Birthplace SHS
Apr 11, 2017
Denison -- Spring is here and once again it is time to make the grounds of the Eisenhower Birthplace State Historic Site sparkle with color as we celebrate Easter with our annual Easter Egg Roll and Scramble. Mark your calendars for Saturday, April 15, 2017, from 2:30 to 4:30, to participate in the fun! Beginning at 2:30 we will enjoy our big Easter egg scramble for children ages 12 and under. Bring your basket so you can gather up some eggs, then enjoy our craft tables and run down our race lanes while nudging eggs in our Easter Egg Roll.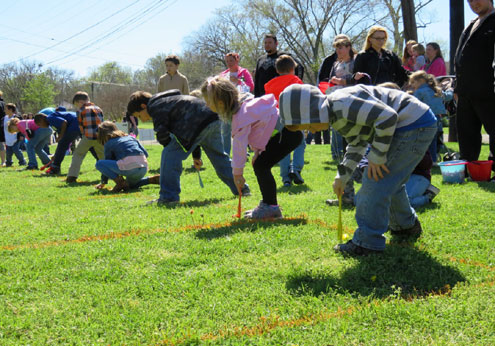 The fun of the Easter Egg Roll has a long tradition at the White House. It actually began on the grounds of the United States Capitol after the Civil War (1861-1865) when large groups of children rolled their boiled and dyed Easter eggs down the hills surrounding the building. But so many Easter enthusiasts enjoyed the activities they trampled the lawn which became a budget concern for Congress. So, Congress outlawed egg rolling on their grounds! President Rutherford B. Hayes (1887 - 1881) offered the White House lawns for the children and a tradition was born. Only world wars and the complete restoration of the White House during the Truman presidency have brought the fun to a halt.
President Dwight Eisenhower and First Lady Mamie Eisenhower revived the Easter Egg Roll tradition at the White House in 1953 following the White House restoration. With the same enthusiasm the Eisenhowers demonstrated at the White House, the Eisenhower Birthplace State Historic Site continues the tradition in Denison.
Plan to join us at 609 S. Lamar Ave., Denison, Texas on Saturday, April 15th from 2:30 to 4:30 p.m. For questions, call us at 903-465-8908 or find us on Facebook at Eisenhower Birthplace State Historic Site.