Religion
Unitarian Universalist celebrate Easter with special concert featuring flutist Cornell Kinderknecht
Apr 16, 2017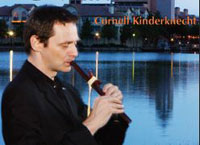 Denison -- This Easter morning the people at Red River Unitarian Universalist Church will gather to celebrate Easter with a special concert featuring Flutist Cornell Kinderknecht. Religious communities often disagree more than they agree with conflicting theologies, writings, and beliefs. One thing, however, present in many, if not all, gathered communities of faith is music.

This Easter concert, at the 11:15 morning assembly, features flute selections played on a variety of flutes. Kinderknecht is an award winning, GRAMMY nominated recording artist, composer and performer of flutes from around the world. He performs and presents workshops throughout the USA. Venues at which he's performed include the prestigious Carnegie Hall. His original compositions and playing have been described as soothing, soaring, haunting, and playful with influences of Native America, the Middle East, India, and the Far East.

His music has been heard in film, TV and advertising and is aired on radio throughout the US, Europe and Australia. In addition to his own recordings, Cornell's playing can be heard on numerous artists' CDs in multiple genres. He is a regular performer and presenter at music festivals around the US.

This Sunday is a special Friendship Sunday where members invite friends who visit with them. The worship team intentionally choose Easter as a Friendship Sunday and has planned a gathering they call "Easter for the Non Religious." It is a celebration for all, especially those who want go to church on Easter but feel uncomfortable in faith communities bound by dogma and creeds. The gathering is free and open to the public.

On Friday, April 14, the Booked for Fun, literary discussion group will meet at 1 pm in the Emerson Room to converse about new authors and books. Open to all book lovers.

Red River Unitarian Universalist Church is at 515 N. Burnett Ave in Denison. The morning starts with an hour of meditation at 9, the adult forum at 10 and Conversations and Calories following the assembly at 12:15.