School News
Austin College's Libby Jennings to present Senior Recital
Apr 17, 2017
SHERMAN, TEXAS — Soprano Libby Jennings of Sherman will perform her Austin College Senior Recital on April 22 at 3:00 p.m. in Craig Hall's Recital Hall. The event is free and open to the public.
Libby, completing a major in music and a minor in classics, is the daughter of Wilson and Trish Jennings.
For the recital, Libby will perform classical sets composed by Henry Purcell and Brahms, as well as a set by 20th-century composers and a Broadway set. She will be accompanied by Dr. John McGinn, Austin College associate professor of music, on harpsichord and piano. Junior Megan Chiu of Wylie, Texas, will accompany portions of the program on cello. Sophomore Salina Duclos of Burleson, Texas, joins Libby in a duet for one Purcell piece.
A light lyric mezzo soprano, Libby sings with the Austin College A Capella Choir and is the current assistant director. She also is a member of the College's small renaissance group Camerata and performed with its pop group, Descant, for two years.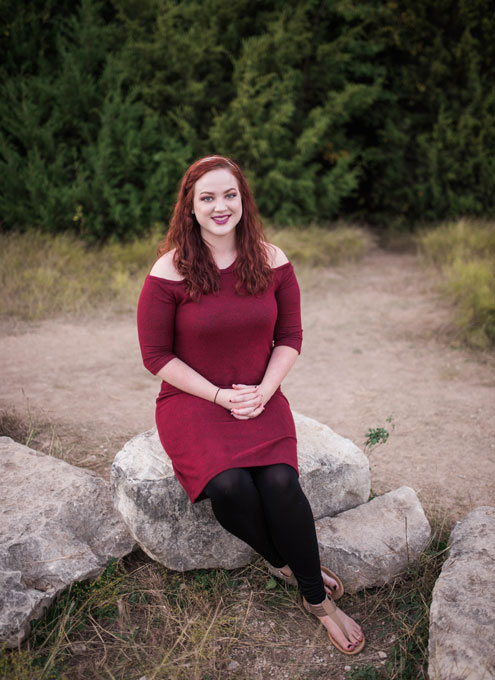 Libby said she has been in choir her entire life, even before she was born as her mother sang in the church choir while pregnant. "Singing is all I've ever wanted to do and it's the only thing that has even made sense for me," she said. She regularly has been involved in church and school music groups programs throughout her life.

With a goal to become a choral director and voice teacher, Libby plans to attend graduate school in pursuit of that career after completing her Austin College degree in fall 2017. She feels she has received good preparation for that at Austin College. "Each student here is able to get such quality time with professors, especially in the Music Department," she said. "I wouldn't be where I am emotionally or mentally if it wasn't for the collective nurturing and care that comes from this department on such a personal scale. The ability to be a part of so many different things has broadened my horizons academically and socially, for example, knowing my classics and history helps me better understand the arias I perform and better connect to them. I also love that it's hard to walk across campus and see someone you don't know. It's a real community."

Austin College, a private national liberal arts college located north of Dallas in Sherman, Texas, has earned a reputation for excellence in academic preparation, international study, pre-professional foundations, leadership development, committed faculty, and hands-on, adventurous learning opportunities. One of 40 schools profiled in Loren Pope's influential book Colleges That Change Lives, Austin College boasts a welcoming community that embraces diversity and individuality, with more than 40 percent of students representing ethnic minorities. A residential student body of approximately 1,275 students and a faculty of more than 100 allow a 13:1 student-faculty ratio and personalized attention. The College is related by covenant to the Presbyterian Church (USA) and cultivates an inclusive atmosphere that supports students' faith journeys regardless of religious tradition. Founded in 1849, the College is the oldest institution of higher education in Texas operating under original name and charter.