Local News
Candidate forum in Tom Bean April 20
Apr 20, 2017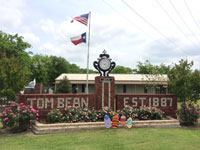 Tom Bean -- For Tom Bean City Council here are the candidates and they include Patti Hanni, Jerry Harris, Aaron Marshall, David McMinn, Brittany Melton (I), Angel Embry Mowdy, Dawson Nitcholas, Tim Rutledge, Richard Scott (I) and Ben Vincent (I).

The TBISD had four (4) candidates on the ballot and they include Jesse Farrer (I), Chris Curd, Julie Cummings and Jason Melton.

A joint candidate forum with the TBISD and City will be held 6:00 p.m. Thursday, April 20 at 6:00 at TBMS cafeteria.

Duane Peters will act as moderator with questions being supplied by Mayor Sherry E. Howard and TBISD Superintendent Kelly Lusk.

Please get to know the candidates and make an educated vote.

Early voting begins April 24 with May 6 as the final day for voting.

Thanks for your support in this important event for our city and school.