Front Page
Time to plan for Hwy 82 Yard Sale and Junk In The Trunk
May 22, 2017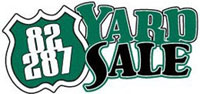 Bonham -- On June 2 and June 3, the Red River Valley Tourism Association, is again having their Hwy 82 Yard Sale. This sale is 425-miles of yard sales. The sale is advertised in newspapers and on radio and TV in communities all along the 425-mile corridor. Every year we have people from Oklahoma and Arkansas as well as Melissa, Plano, Frisco, Allen, McKinney and Greenville here to shop the sale. This is a great chance for your organization to sell baked goods, crafts, or clean out your garage and closets for funds to support the youth, or some project, or great cause that your group would like to help.

Last yearís sale brought many out of town shoppers. The City of Bonham Tourism is again also offering a Junk In The Trunk Sale. This sale will be held in the parking lot next to Old Smith Moore Williams Building on Main Street.

If your organization chooses to participate in this sale, or if you are planning a personal sale the Bonham Visitor Center will put information about your sale on our web site, our Facebook page, and print it on a map that is handed to each shopper that visits the Visitor Center at 327 N. Main Street on those two days. We have had many non-profit organizations that have had a great experience and good sales for those two days, as they took advantage of the added costumers available to them.

You may have your sale at your organizationís address, your home address, or you can hold it uptown on the parking lot at the corner of Main Street and 3rd St. across the street from the old Smith Moore Williams Building, where the city will be have a Junk In the Trunk Sale.

If you need additional information about the sale or what you need to do to participate please call Emily at 903-640-6698 or the Bonham Visitorís Center at 903-583-9830.