Farm and Ranch
Conditions good for crawfish producers amid an expanding Texas market
Sep 10, 2017
Dr. Todd Sink, AgriLife Extension fisheries specialist in College Station, said early reports from crawfish producers in southeast Texas indicate it will be an average to above-average year.
"At this point, we're about 8 percent lower in production than last year, meaning for every 10 pounds produced last year, we're producing around 9.2 pounds," he said. "That might sound bad but production was up so far last year that we're still doing well."
In 2016, a mild winter, coupled with heavy spring rains and wet conditions throughout the season allowed Texas crawfish producers to increase production around 19 percent, Sink said.
"Anytime we get a mild winter and it stays wet, it is typically good," he said. "Crawfish are active longer and continue to grow. Last year was just out of this world."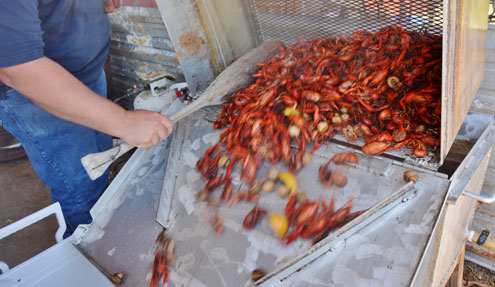 Crawfish continue to gain popularity among consumers in northeast Texas and major markets around the state. (Texas A&M AgriLife Extension Service photo by Adam Russell)
Mild winters can mean crawfish season can begin in early February, while cold winters can push the season kickoff into March, he said. Producers begin to serve local and area consumers as soon as crawfish exit dormancy and begin serving other markets as their numbers increase.
Sink said the crawfish market has expanded over the last 15-20 years.
"There are a lot more people eating crawfish nationally," he said. "Crawfish used to be viewed as a strange little bug by people outside of Louisiana and southeast Texas, but it's less taboo and there has been more and more demand for them."
Sink said demand in Texas markets like Austin, Dallas and San Antonio has prodded producers to expand their capacity and has brought new producers into crawfish farming.
Prices can hover in the low-$2 per pound range for live crawfish from local producers, but it's not uncommon to see $8-$9 per pound for live crawfish in distant markets when demand is high and transport costs are added, Sink said. Crawfish season peaks during Lent, between Fat Tuesday and Easter, when demand can push prices higher.
Texas is No. 2 in U.S. crawfish production, well behind Louisiana, but well ahead of the next state, Sink said.
"Louisiana produces about 90 percent of the crawfish, but they also consume about 90 percent of the crawfish they produce," Sink said. "They typically serve local and area demand before they start sharing."
Sink said most Louisiana crawfish farming compliments rice production, but most Texas producers grow their crawfish in permanently flooded ponds. There are seven large producers with 100-300 acres of capacity each, mostly in southeast Texas between Beaumont and Houston, but small-scale producers are entering the market as an opportunity for supplemental income as demand grows.
Good conditions this year are providing good opportunities for producers and decent prices for consumers, he said.
"We typically want to see about 600 pounds of crawfish per acre from our producers to be profitable," he said. "This year, some producers are seeing 700-750 pounds per acre."