Local News
May activities at Hagerman National Wildlife Refuge
May 13, 2017
Mother's Day in the Garden
Sunday, May 14, 2017, 3:00 p.m. – 5:00 p.m.
Families are invited to bring Mom out to HNWR for a stroll through the Butterfly Garden. Garden docents will be on hand to help you learn about the native Texas plants and visiting butterflies, or you can just enjoy the beauty: perfect for making memories and taking photos! Light refreshments will be served. Free, no reservations needed. Come and go or come and stay.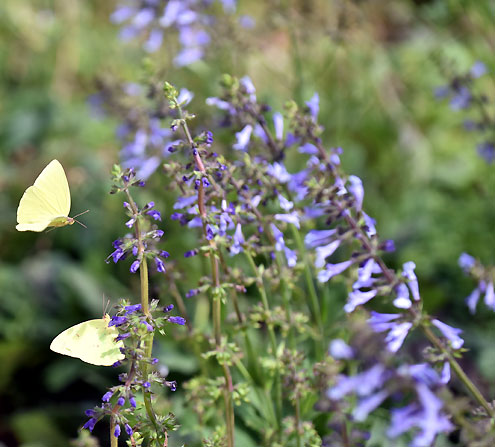 Butterfly Garden - photo by Allen Rich
The Refuge Rocks - Turtles at HNWR - For Ages 4 - 7
Saturday, May 20, 2017, 10:00am – 11:30am
What if you could carry your house around on your back, wherever you go? Turtles, the original "mobile home" do this! Learn about tortoises, terrapins, and turtles, and which kinds can we see at the Refuge. Free program of nature activities for ages 4- 7; parent or responsible adult must accompany children in this age group. Note reservation deadline, May 18. Register each child separately online, or call the Refuge - 903 786 2826.
The Refuge Rocks - Turtles at HNWR - For Ages 8 - 12
Saturday, May 20, 2017, 10:00am – 11:30am
The more than 293 species of turtles alive today inhabit a variety of habitats including marine, freshwater and terrestrial regions throughout the temperate and tropical regions of the world. Turtles are best known for the hard shell (also called a carapace). Learn top turtle facts and which species are found at the Refuge at this free nature program! Please register each child separately, online or by phoning the Refuge, 903 786 2826, and note deadline for signing up, May 18. Parents may accompany youngsters in this age group (optional).
Butterfly Garden Walk
Saturday, May 20, 10 am
Stroll through the Butterfly Garden at Hagerman National Wildlife Refuge. Come on your own or bring the family. Garden docents will be on hand to help you identify the Texas native plants and the butterflies in the garden. Use our close-focus butterfly binoculars to get a really CLOSE look. Special activities for families available: scavenger hunts, meet the Metamorphosis Puppet and more. Garden walks are Come and Go or Come and Stay. The garden is free of charge and open to the public during Refuge hours.

FOH Nature Photography Club Meeting
Saturday, May 20, 2017, 1:00pm – 3:00pm
Program topic for May - Wildlife Photography in Africa, presented by Jimmy Thomas. The sharing theme will be Pollinators. Club meetings are open to all interested in nature photography, regardless of level of experience or type of photo gear. Visitors may attend free of charge, there are nominal membership dues. Meet in the Visitor Center Meeting Room, light refreshments provided.
Outdoor Crew Work Day
Saturday, May 27 and Tuesday, June 6, 9:00am – 11:00am
Show your love for nature! Join the Outdoor Crew at Hagerman National Wildlife Refuge, sprucing up trails, trimming and removing brush, trash and general cleanup! Meet at the Visitor Center the first Tuesday and the fourth Saturday of each month. For more information, contact friendsofhagerman@gmail.com.
Garden Work Day
Every Wednesday, May – October, 10:00am
Love to garden? Enjoy spending time beautifying the butterfly garden at HNWR as part of a team that meets on Wednesday mornings through the growing season, weather permitting, for two hours. The team is organized on a come-when-you-can basis. Gardeners provide their own tool; snacks and water are provided for them. Gardeners get to take home extra plants! For more information, contact friendsofhagerman@gmail.com.
Free Tram Tours, Saturdays & Sundays
Take a guided tour of the refuge with an expert birder aboard the open air, all-electric Carlos and Eulalia Cardinal Express! Enjoy a trip along Wildlife Drive and some of the Pad roads at the Refuge, with frequent stops to view and photograph wildlife, especially birds. Learn about the history of the town of Hagerman and the operation of the refuge.
This 60-90 minute guided tour is offered on Saturdays and Sundays at 2 pm, weather permitting. Seating space is limited; please call to reserve your seat: 903-786-2826 between 9am-4 pm Monday thru Saturday or from 1pm to 5 pm on Sundays. Please speak to a volunteer when making or cancelling a reservation as volunteers are unable to access messages on the Refuge phone system. Tours are free of charge; however, donations to the tram maintenance fund are appreciated.