School News
Dodd City ISD Band Program hitting all the right notes
May 19, 2017
Dodd City -- From its humble beginning in 2013 with a mere 14 students, the Dodd City High School Band now has 76 students enrolled in grades 7-12, approximately 70 elementary band students and a new band hall.
Fresh off the Sounds of Spring contest at Princeton High School where the Dodd City High School Band earned the highest rating in both the concert and sight-reading portions of contest, instructor Juli Wild looks back with fondness on the exponential growth of the Dodd City ISD Band Program.
"In 2009, I started teaching recorder class to elementary students," recalls Ms. Wild. "The program really took off, and the kids enjoyed it a lot. We started going to a music festival at Sandy Lake Amusement Park, where the kids would play their music for judges and get a rating. They always made top ratings, and became a little competitive with it. When the kids who were in 5th grade that first year were in 8th grade, and not able to participate any longer, they discovered that they missed being able to play music at school, and started a petition to have a high school music class. They gave their petition to the school board, and the board agreed to allow one."
That decision by the Dodd City ISD Board of Trustees proved to be wise, although initiating a band program in a Class 1A school came with a unique set of challenges.
"The first year we had band at DCHS was 2013, and there were 14 students in the class: three flute players, four clarinets, two saxophones, one violin, one bass guitar, and three percussionists. We didn't have enough kids to have conventional instrumentation, and we had no brass players, so it made playing regular music pretty tricky. All of our music had to be selected very carefully, and then adjusted for the players we had, but the students were so dedicated and invested that we made it work," explains Ms. Wild. "They picked up on it quickly and easily because of their background with recorder in elementary, and we were able to give our first concert at Christmas. I remember hearing a lot of comments along the lines of, 'I can't believe they picked it up so fast and sound good already!' Those students were pioneers of music in our community, and excellent ambassadors. I'll always be grateful that they were brave enough to get it started, and hundreds of students will benefit from their initiative."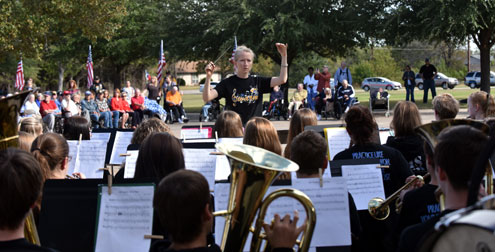 From the first day of band class in the fall of 2013 to its first concert a scant three months later, the young musicians in Dodd City hit the ground running and haven't dropped the beat since.
"The next year we were able to expand and start band in 8th grade, and we had about 40 kids involved from 8th - 12th," says Ms. Wild. "That meant that we could expand to brass instruments and become a little more conventional, but we've had, like any small-school program, some particular challenges to overcome. Scheduling was difficult, and that year the kids were spread out of several class periods, so rehearsing together as a group before a performance was done at 6:45 a.m. practices. There was no space to accommodate us well, and our classroom was a storage room by the gym, with paper thin walls between us and the coaches' office. Poor coaches. Most schools have inventories of school-owned instruments that students could check out, but we didn't have any at that time, and the kids all had to buy their own, which I would find for them. We didn't have any tubas, and used bass guitars instead. Despite the challenges, the kids played with mounting excitement, and that year we attended a contest where one of the judges was Lt. Colonel Jay Brewer, one of the directors of the Texas Aggie Band. He noticed our lack of tubas, and donated to us many instruments that the Aggie Band was getting rid of. This kind of altruism has been shown to us by many people who have donated instruments, and has allowed us to build our inventory, slowly but surely."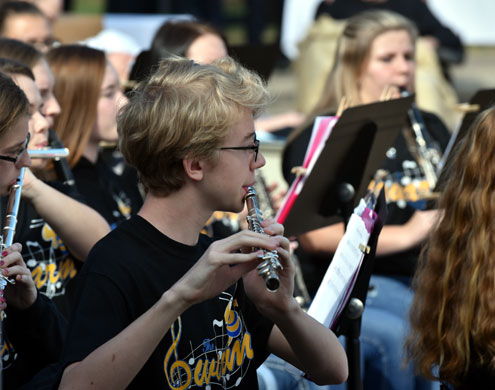 As summer approaches and those determined "pioneers of music" at Dodd City High School are preparing for graduation, they will leave behind a thriving music program. One student has earned the distinction of securing the first music scholarship awarded to a student at Dodd City ISD.
"This year, our fourth year to have band, we have about 70 elementary students in the recorder ensembles, and 76 students in band grades 7 - 12," Ms. Wild continues. We have a junior high band for beginners, and a high school band for all the rest. Dodd City ISD built a new building last year that included a band hall, so we now have a proper home. We are continuing to work toward expanding our skills and our repertoire, and the students who started the program will graduate this year. One of them even has a music scholarship for college next year."
The scholarship winner is Dylan Knight, and he says, "Music means a lot to me, and I've been grateful for the chance to play here. With this foundation, I'll be able to continue something I love through college."
"I'm beyond proud of him that he took the initiative to learn material and take his audition," Ms. Wild states. "It can be a scary thing, especially when you're the first one, and have no idea how it'll turn out. I am tremendously proud of all my students and their accomplishments in all areas, for many band students are involved in other pursuits as well, such as athletics, ag, and high academic achievement."
"Six of the nine band seniors are in the top 10 graduates," Ms. Wild adds. "The top three places went to band members and about half of our talented high school varsity girls basketball team were band members. I'm grateful to have a chance to work with these students in this wonderfully supportive community, and I'm so excited about this program's future prospects. Fine arts education is tremendously beneficial to students, and I applaud the Dodd City ISD administration and school board for supporting it in our school, and giving these rural students an opportunity to gain new talents and perspectives that they will carry with them into the larger world."