Lifestyles
McKinney Repertory Theatre presents Marc Camolettiís Donít Dress for Dinner
May 19, 2017
McKinney, Texas -- McKinney Repertory Theatre presents Marc Camolettiís hilarious farce, Donít Dress for Dinner at McKinney Performing Arts Center in McKinney.
Packed with all the bawdy hijinks that farce fans expect, Donít Dress for Dinner is sure to delight. Director Chris Berthelot has assembled an outstanding cast of actors who are seasoned in the genre and wonít disappoint.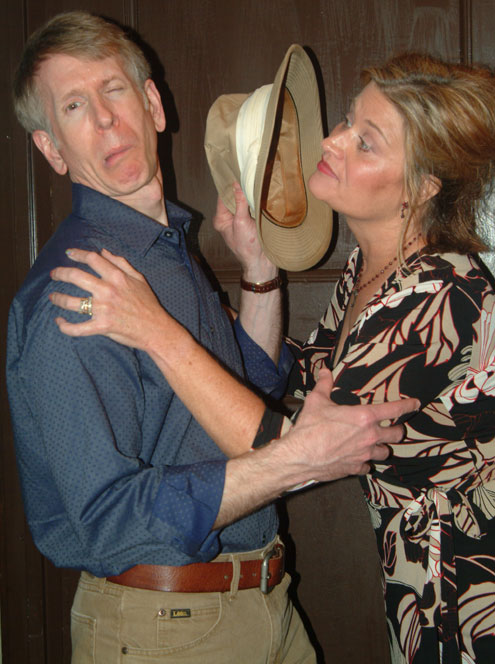 Dale G. Gutt and Jennifer Stephens-Stubbs - photo by Chris Berthelot
Bernard (Steve Schreur) has made plans for a weekend of extra-marital affairs at the quaint getaway farmhouse he owns with his wife, Jacqueline (Jenn Stubbs), while she is out of town. He has invited his mistress Suzanne (Alden Price) for a few days of fooling around, kicking off with a romantic dinner prepared by the hired caterer, Suzette (Maxine Frauenheim). He's also invited his best friend Robert (Dale G. Gutt) to come and stay for the weekend. Unbeknownst to Bernard, Jacqueline is equally bad with monogamy and has her own 'man on the side'. That man happens to be Robert. When Jacqueline decides to remain at the country house rather than leaving town as Bernard expected, and the cook's husband George (Joe Barr) arrives without warning, it's a recipe of spouses, friends, lovers, and women called 'Suzy' that's custom-made to boil over with laughs.
Note: adult themes, may not be suitable for children.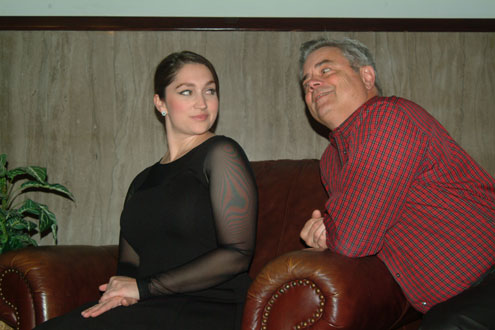 Alden Price and Steve Schruer - photo by Chris Berthelot
The show opened Friday, May 12, at 8:00 p.m., with a special ďTalk-BackĒ Q&A after the show with the cast and crew. The show runs through May 20 with performances at 8:00 p.m. May 19 and 20, and a performance at 2:30 p.m. on May 20. Tickets are $18.00 for adults with discounts for seniors and students and are available at the Box office, by calling 214-544-4630, or online at McKinneyRep.org.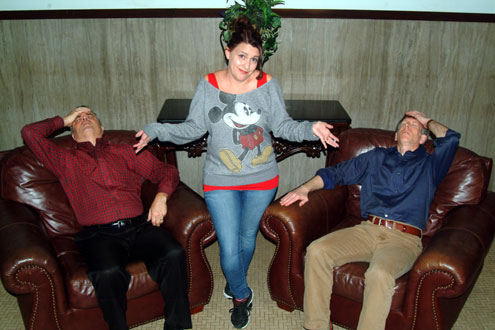 Steve Schruer, Maxine Frauenheim, Dale G. Gutt - photo by Chris Berthelot