Local News
Register by May 12 for McKinney Community Emergency Response Team classes
May 12, 2017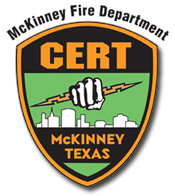 McKinney – The McKinney Fire Department-Office of Emergency Management will be hosting the next Community Emergency Response Team (CERT) training program beginning May 24. The CERT Program is based around community preparedness and response, and neighbors helping neighbors during disasters and emergencies.

"Trained CERT members are extremely important and valuable in helping a community get back on track during the most critical situations, like natural disasters," said Emergency Management Coordinator Karen Adkins. "The McKinney CERT Training Program will help residents be better prepared in helping themselves and others during a time of need."

The program is broken up into nine units spread over eight weeks. Units include topics such as fire safety, emergency medical operations, terrorism, disaster psychology, light search and rescue operations, and more. During the final unit, participants put training elements together and participate in a full-scale exercise.

After completing CERT training, members will be trained on how to be self-sufficient for up to 72 hours following a major disaster and also how to provide critical support to professional first responses.

CERT members can apply their skills even during non-emergency events such as city sponsored events and other special projects.

Program members must be at least eighteen years old with a valid driver's license, be able to perform physical activities, pass a background investigation and live or work in McKinney.

To register for the 2017 CERT class, please fill out and return the application available online at www.mckinneytexas.org/CERT before May 12. For more information on the program, contact Randall Gurney at 972-547-2866 or rgurney@mckinneytexas.org.