Obituaries
Bonnie Beardsley
May 13, 2017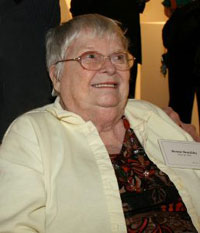 Sherman, Texas -- Friends of longtime local theatre notable Bonnie Beardsley are invited to a memorial service on Saturday, May 20, at 2:00 p.m. in Wynne Chapel on the Austin College campus, with a reception to follow in Ida Green Communication Center's Beardsley Arena Theatre.

Mrs. Beardsley died In Sherman on March 15 at 94 years of age.

In addition to serving on the Austin College theatre faculty from 1960 to 1984, Mrs. Beardsley, along with her husband, Paul, also a member of the Austin College theatre faculty, performed a variety of duo-dramatic presentations in Sherman and Dallas.

An artist, acting coach, and playwright, Mrs Beardsley remained active in the Sherman theatre community for many years.